At a New York City event, Microsoft unveiled updated Surface Pro, Surface Laptop and Surface Studio computers, and debuted Surface-branded wireless headphones with Cortana capabilities. Microsoft is one of several big tech companies holding hardware-related events this fall; Apple held its smartphone reveal in September and Google will hold its event on October 9. The Microsoft event mainly showed off updated existing products and made it clear the company is committed to manufacturing its own computers.
Wired reports that, "the Surface Pro 6 will have the latest quad-core, 8th generation Intel Core processor, which Microsoft claims makes it 1.5 times faster than the Surface Pro 5," offered in a black finish. Battery life matches last year's Surface Pro, at around 13.5 hours, and it still lacks USB-C ports. It will ship in mid-October, with a Core i5 model with 8 gigabytes of RAM and a 128-gigabyte SSD priced at $899, not including the $160 Type Cover Keyboard or $100 stylus pen.
Wired notes that, "Microsoft has always positioned the Pro as a device with laptop-level power in a hybrid form factor."
The Surface Laptop 2 features "an 8th generation, quad-core Intel chip, a significant bump up from the Intel Kaby Lake dual-core processor in the first Surface Laptop," and adds matte black as an option to the existing burgundy, cobalt blue and platinum. The laptop's thermal management system has been updated with "passive cooling handling more of the workload," which should make it less noisy. Microsoft updated the USB, Mini DisplayPort, and the Surface Connector.
It will be available mid-October starting at $999 for the base model, which includes a Core i5 chip, 8 gigabytes of RAM, and a 128GB SSD. Microsoft chief product officer Panos Panay said that matte black adds 40 to 80 microns of thickness, which meant the company had to redesign everything "for the fit and flow."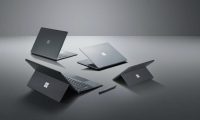 The $3,500 Surface Studio 2 is "aimed at designers, video editors, and other creative professionals" and features "a 28-inch PixelSense touchscreen that lays flat and supports touch, pen, and a funky control dial." This second-gen product "ships with an i7-7820 processor, a 64-bit quad core chip that was released in 2017 and is based on the Kaby Lake architecture" and features improved graphics and 50 percent faster file processing. The $3,500 starting price includes "an Intel Core i7 chip, 16 gigabytes of RAM, 1 terabyte of internal storage, and Nvidia GeForce GTX 1060 graphics."
The $349 Surface Headphones are "wireless and over-the-ear, designed with Skype users in mind" and, via Swift Pair, pairs with Windows 10 devices. Surface Headphones will launch during the holiday season.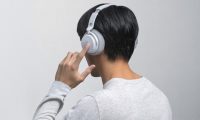 The Verge adds that Microsoft is launching an All Access program, initially available only in the U.S., for the Surface products that will let users "bundle a Surface device with accessories and Office 365 for $24.99 a month for two years." Microsoft is also introducing an app mirroring feature to bridge the gap between its PC and mobile OS. This will allow users to "cast their Android screen onto a Windows 10 device," and will be available for both Android and iOS with the Windows 10 October update.
Topics:
All Access
,
Android
,
Apple
,
Cortana
,
Google
,
Headphones
,
Intel
,
Intel Core
,
Intel Core i7
,
iOS
,
Kaby Lake
,
Microsoft
,
Nvidia GeForce
,
Office 365
,
Panos Panay
,
PCs
,
PixelSense
,
Skype
,
Surface Headphones
,
Surface Laptop
,
Surface Pro
,
Surface Pro 6
,
Surface Studio
,
Swift Pair
,
USB-C
,
Windows 10
,
Wireless