At MWC Barcelona (formerly Mobile World Congress), Microsoft introduced HoloLens 2, a new version of its four-year-old HoloLens headset, which is aimed at the enterprise use cases such as job training. Because the company is not targeting entertainment uses, HoloLens has maintained a low profile, focused on its corporate customers such as Bentley and Japan Airlines. Chief executive Satya Nadella stated his belief that "the next big tech breakthrough" will come from retail, healthcare or car manufacturing.
The Wall Street Journal reports that, according to Forrester Research, U.S. businesses are still slow in their adoption of the technology, with less than one million "smart glasses" currently in use; the research company expects that number to become 14.4 million by 2025. Last fall, Microsoft inked a $479 million deal to supply the U.S. Army with augmented reality prototypes, its biggest deal.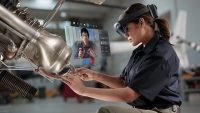 HoloLens 2 improves on the first version by being lighter, more comfortable to wear and offering twice the field of view. It did not introduce any games or apps. "I'm just not hearing that people desperately need another way to be entertained right now," said Microsoft general manager of engineering for AR applications Lorraine Bardeen. "We're not investing in hype." To that end, HoloLens is not sold in stores, including Microsoft's.
With HoloLens 2, which is available for $3,500, Microsoft is betting on the growth of augmented reality in the enterprise space. Whether they ever focus HoloLens on the consumer market, however, is unclear. "I haven't seen any evidence from Microsoft that they can navigate that," said 6D.ai chief executive Matt Miesnieks, whose company works on emerging AR technologies.
Wired goes into more details of what users will find with HoloLens 2. According to Microsoft AI/mixed reality technical fellow Alex Kipman, HoloLens 2 offers three improvements: "It's more comfortable, it's more immersive, and it offers more out-of-box value than the first HoloLens." The field of view has "more than doubled," it has an AI processing unit and also connects to Microsoft Azure, the company's cloud service.
Kipman also identified its best use, saying it's not for "knowledge workers" who sit at their desks, but rather for "people whose jobs are being digitally transformed," such as those "who work in design or manufacturing, who fix gear shifts and work on oil rigs, military personnel." Kipman dubbed it "as a full-fledged computer for a futuristic world of remote workers in need of expertise."
Although HoloLens 2 is more immersive, Kipman and Microsoft optics engineering head Zulfi Alam admitted that it "isn't totally immersive yet." But they are enthused over the way they doubled the field of view, via MEMS mirrors they said are the "largest small mirrors in the world." MEMS mirrors, explained Alam, are "replicating your pupil multiple times," which allows them to increase the field of view by changing the angles of the mechanical system rather than be forced to increase the size of the product.
HoloLens 2 also offers eye-tracking technology and "cloud-based spatial anchors" which lets users "access holographic app features even if they're not wearing a HoloLens."
Related:
Microsoft Promises an Open HoloLens Ecosystem, TechCrunch, 2/24/19
Unreal Engine 4 Support Is Coming to HoloLens 2, TechCrunch, 2/24/19
Microsoft Announces an Azure-Powered Kinect Camera For Enterprise, TechCrunch, 2/24/19
Microsoft Introduces Enterprise AR Apps Remote Assist and Dynamics 365 Visualize, VentureBeat, 2/21/19
Topics:
6D.ai
,
AI Processor
,
Alex Kipman
,
Augmented Reality
,
Bentley
,
Enterprise
,
Eye Tracking
,
Forrester Research
,
Holographic
,
HoloLens
,
HoloLens 2
,
Japan Airlines
,
Lorraine Bardeen
,
Matt Miesnieks
,
MEMS
,
Microsoft
,
Microsoft Azure
,
Mobile World Congress
,
MWC Barcelona
,
Satya Nadella
,
Smart Glasses
,
U.S. Army
,
Zulfi Alam