San Francisco-based startup Meta makes augmented reality headsets that its founder/chief executive Meron Gribetz wants to use to remake the traditional office. With his headset, the user can use a virtual floating screen to control 3D models, browse web pages, write code and send emails. Gribetz — who studied neuroscience and computer science at Columbia University — is now using his own employees to test the headset and its software to figure out how to improve it, an experiment described in a Bloomberg News "Decrypted" podcast.
Bloomberg reports that Gribetz, who founded Meta in 2012, last year raised "$50 million from investors like Lenovo Group Ltd. and Tencent Holdings Ltd.," with the goal of making AR "a seamless extension of the real world." His vision for the future is a workspace without "computers, cubicles, regular desks or chairs."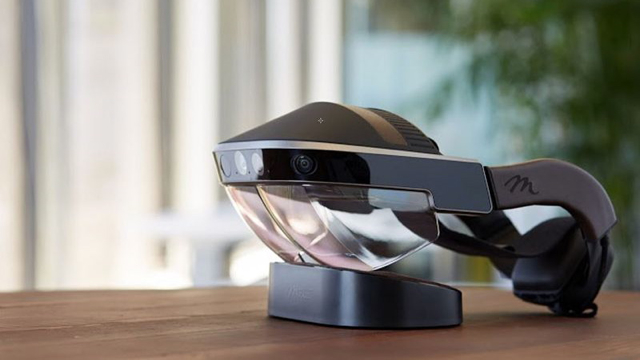 Meta estimates that, by end of 2017, "more than 10,000 people will be using the $949 headset." Gribetz is focusing on the software, inspired by Apple's interfaces, since he "believes AR hardware will become quickly commoditized."
Testing his technology on employees "who are focused the singular goal of transforming the workplace through AR" is Gribetz's strategy for "snatching the lead from better-financed rivals." A team of neuroscientists overseeing the Meta experiment are collecting data on "how people's eyes and bodies feel in the headset, how much work gets done compared with using monitors and the overall experience day-to-day." The company "is also encouraging employees to write daily logs about the experience."
A Bloomberg reporter tested out the Meta technology, using her hands to pull a web page to a size twice as large as her desktop. She read articles, watched a short video, picked up a 3D model of a human eyeball, expanding it to the size of her head, and examined a model of the human body. She didn't like "the way the headset felt on [her] head" and "had some trouble grabbing the holographic objects."
"But the experience was so immersive that I was disoriented when the headset came off," she said.
Topics:
3D Models
,
Apple
,
AR Headsets
,
Augmented Reality
,
Bloomberg News
,
Columbia University
,
Decrypted
,
Email
,
Enterprise
,
Hand Gestures
,
Holographic
,
Interfaces
,
Lenovo
,
Meron Gribetz
,
Meta
,
Meta 2
,
Neuroscience
,
Podcast
,
San Francisco
,
Software
,
Tencent Holdings
,
Virtual Objects
,
Virtual Reality
,
Virtual Screen
,
Workplace