The Amazon-led universal connectivity protocol, Matter, is being marketed as the first universal casting standard to reliably work with Apple, Samsung and Google protocols, among others. Interoperability issues that smart home inhabitants have encountered getting their devices connected are legion. A key aspect of Matter's promise of platform agnosticism is its specs for streaming video players and TV displays, prompting speculation that Matter TV could replace proprietary casting systems, including Apple's AirPlay and Google's Cast. Matter is an independently developed protocol developed by the Connectivity Standards Alliance due to launch in 2022.
"Matter TV, as we'll call it for wont of an official name, will allow control of a television's core functions — volume up / down, changing the channel, controlling inputs and outputs, and switching between HDMI ports," reports The Verge. "But importantly, you can also do casting," noted Chris DeCenzo, principal software development engineer at Amazon Lab126.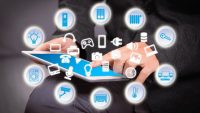 Casting is an area in which about five proprietary protocols compete today, DeCenzo elaborated, resulting in what The Verge calls "major headaches for users as they grapple with which voice assistant can get this content and which remote will control that streaming stick."
As the only big company without a proprietary casting protocol, Amazon is leading the way to define Matter's specifications for linking smartphones to TVs, while also urging streaming players and smart TV manufacturers to get behind it. The goal, DeCenzo tells The Verge, is to make it so "customers can have a consistent way to use voice control and to launch their favorite content on those screens."
The idea is for a viewer to be able to use a control interface of their choosing — be it remote control, voice assistant or smartphone or tablet app — to control streaming to all devices. The Verge reports that initially, the Matter specification will use app-to-app communication as it waits for TVs and streaming players to become Matter enabled.
It also supports URL-based casting via Dynamic Adaptive Streaming over HTTP (DASH, an international standard) or Apple's HLS DRM protocol (widely supported on Android), which means Matter will in theory be able to cast even when there's no app for the client device. As such, Matter's capability is touted as having the potential to go beyond entertainment for use across a wide variety of smart home appliances and devices.
Topics:
AirPlay
,
Amazon
,
Amazon Lab126
,
Android
,
App
,
Apple
,
Casting
,
Chris DeCenzo
,
CSA
,
DASH
,
DRM
,
Google
,
Google Cast
,
HDMI
,
HLS
,
Matter
,
Mobile
,
Remote Control
,
Samsung
,
Smart Device
,
Smart Home
,
Standard
,
Streaming
,
Streaming Sticks
,
Television
,
Video
,
Voice Commands