According to market research Newzoo, the West's four largest eSports tournaments on Twitch and YouTube garnered 190.1 million hours of live viewership, up 6.9 percent from a year earlier. That reflected professional eSports' ELEAGUE Major: Boston for "Counter-Strike: Global Offensive," The International ("Dota 2") and the Overwatch League Finals. But not all tournaments fared equally, with the largest event, the League of Legends World Championship dipping from 86 million hours in 2017 to 81.1 million hours this year.
VentureBeat reports that the ELEAGUE Major: Boston was "the second-most-viewed event (by eSports hours), pulling in 54.1 million hours watched across Twitch and YouTube Gaming, up from 42.7 million hours for last year's Atlanta event," which was an increase of 26.8 percent from last year. It also had "the most average viewers of any of the top events at 173,000," but its 224-hour duration prevented it from getting the top viewership spot. Endemic sponsors were Alienware, Maxnomic, and HyperX, with non-endemic brands Boost Mobile, Cheez-It Grooves, and the U.S. Air Force.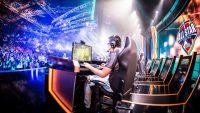 Although League of Legend event's "viewership decreased slightly from last year … viewership for the event's top Twitch channel (Riot Games) increased," streaming the event for 304 hours to "an average of 93,000 Twitch viewers." Newzoo also points out that Mastercard sponsored a pop-up fan event at "Mastercard Nexus," which allowed fans to try an AR experience, "play an exclusive game mode … meet pros and teams, and more … an example of a non-endemic brand catering to the E-sports community via engaging content." Non-endemic brand State Farm and endemic brands Acer and Maxnomic had "spectator ad spots at the tournament."
Just behind ELEAGUE Major, the event's The International 2018 had 49.3 million viewership hours across YouTube Gaming and Twitch, compared to 43.9 million hours last year. The top Twitch channel for the event was dota2ti, with 19.5 million live hours watched for a 236-hour stream. Its three endemic sponsors were Nvidia GeForce, Maxnomic, and Stratz.
The fourth and last most popular eSports event, by live viewership, was the first edition of the Overwatch League Finals, with 5.6 million hours on Twitch and YouTube Gaming. Its official partners were endemic brands Intel and Omen by HP, with non-endemic brand T-Mobile and partners Sour Patch Kids and Toyota.
Elsewhere, VB reports that the NASCAR Race Team Alliance and 704Games are "collaborating on the first-ever NASCAR eSports league on game consoles." The eNASCAR Heat Pro League "will feature up to 16 race teams and 32 drivers, each owned and operated by real-world NASCAR race teams," and "fans who own the 'NASCAR Heat 3' video game can begin to qualify for the eNASCAR Heat Pro League Draft, scheduled to take place early next year."
The League races will be streamed online at NASCAR.com, Twitch and Motorsport.com. "Our partners at 704Games have delivered an incredible product and we are enthusiastic about engaging a young demographic of gamers to create new fans and grow our sport," said NASCAR executive vice president for innovation and development Craig Neeb.
Topics:
704Games
,
Acer
,
Alienware
,
Augmented Reality
,
Boost Mobile
,
Cheez-It Grooves
,
Counter-Strike: Global Offensive
,
Craig Neeb
,
Dota 2
,
ELEAGUE Major: Boston
,
eSports
,
HyperX
,
Intel
,
League of Legends
,
Mastercard
,
Maxnomic
,
NASCAR
,
NASCAR Heat 3
,
Newzoo
,
Nvidia GeForce
,
Omen by HP
,
Overwatch League
,
Riot Games
,
Sour Patch Kids
,
State Farm
,
Stratz
,
The International
,
Toyota
,
Twitch
,
U.S. Air Force
,
YouTube Gaming