After seven years and $2.3 billion, Magic Leap has started taking pre-orders for its augmented reality headset, Magic Leap One, priced at $2,295. Magic Leap One is made up of a pair of sensor-powered goggles and a powerful notebook computer worn on the hip, with a battery that will hold a charge for three hours of continuous use. Magic Leap One is designed to be used indoors, and will be available initially in Chicago, Los Angeles, Miami, New York, San Francisco and Seattle, delivered by Enjoy Technology.
Bloomberg reports that buyers will "get a home visit from a concierge who will conduct a 30- to 60-minute unboxing and set-up ceremony." Magic Leap founder/chief executive Rony Abovitz "declined to say how many headsets the company hoped to distribute this year," but the concierge service suggests his sights are limited for now. "We are going to slowly ramp up based on learning," he said.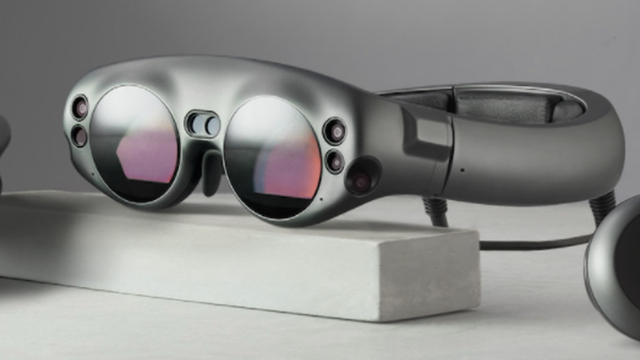 But, "in the short term, the measure of success for Magic Leap won't be the number of headsets it moves, but whether it can convince developers to make applications for its platform." Magic Leap will convene its first developer conference in October and focus on creation of shared experiences.
The market's experience with Oculus and HTC Vive VR headsets and Microsoft's HoloLens has convinced "most people in the industry … that mass-market augmented reality is years away at best." Magic Leap One is already "drawing scrutiny" for its modest 40-degree horizontal field of view; the second-gen HoloLens is expected to "have a far wider field of view, threatening to make the Magic Leap One seem old very quickly."
The Wall Street Journal describes the experience of reporter Joanna Stern, who went to Magic Leap's Florida headquarters to try the Magic Leap One Creator Edition for herself. "Oh boy, was it an inspiring glimpse into the future of our interaction with technology and each other," she said, while at the same time cautioning consumers against running out to buy one, "maybe not for years."
Magic Leap's goggles, she said, "make digital objects sometimes look so real that they play tricks on your mind." During one demo, she explained, she picked up a chess piece "just to confirm it wasn't another illusion." (Watch Stern's experiences here.) She also commented on the "limited field of view that constrains the experience." "Some objects appeared cut off unless I turned my head or took a few steps back," she said.
She added that the headset weighs 0.7-pounds, "a little more than half the weight" of Microsoft's HoloLens, and that "the pack got warm after a bit," but that was preferable to "wearing all of those components on my face." The NBA Preview app, featuring LeBron James, "made it easy to imagine watching news, entertainment or sporting events in completely new ways."
"It's easy to look at the One Creator Edition and see just a dorky headset, but squint a bit more and you'll see what it really is: a personal computer, similar to the Apple I or the IBM PC," she said. "It's a bold, exciting, petrifying vision of the future." Magic Leap is planning "pop-up stores and demo spaces in various cities in the coming months."