During CES in Las Vegas last week, companies unveiled prototypes of foldable tablets. Among them, Lenovo launched its ready-to-ship ThinkPad X1 Fold, with pricing, specifications and accessories. Dell, Intel and TCL showed prototypes of a foldable screen, the first two of which run Windows 10 as a stand-in for Microsoft's dual-screen Windows 10X; TCL's prototype was shown as an Android device. Lenovo's laptop will ship before this software launches. Software that takes the best advantage of two screens is the challenge for these device makers.
Engadget reports that, "these are largely problems that Windows 10X will have to solve, but companies like Lenovo and Dell don't want to rely completely on Microsoft." Of the emerging beliefs about what consumers want, manufacturers have focused on "making apps split the screen quickly" as well as "offering a gesture for an app to take up the full screen," as shown in Dell and Lenovo's demonstrations.
A virtual keyboard is likely to fill in the lower portion of the display when the device is "folded and propped up in portrait mode like a mini laptop." Lenovo features a "mode-switcher tool that lets you quickly expand apps, split the screen in two or pull up an on-screen keyboard, though that last option only shows up when the Fold is in portrait mode." Intel is showing something similar with its Horseshoe Bend concept device.
For a roomier keyboard, Dell and Lenovo also made "keyboard accessories that sit on top of the bottom half of the screen," but they aren't laid out like a "regular notebook," making them a dubious replacement for a laptop. Intel's 17-inch prototype "might be an indicator of a size sweet spot" although the company did not have a physical keyboard to try out. Lenovo has, for an extra price, a stylus for the X1 Fold, and Dell "also showed off a pen with its concept Ori."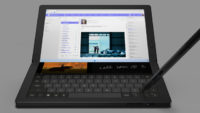 The New York Times reports that, at CES 2020, "among the questionable tech trends were foldable screens." The Lenovo ThinkPad X1 Gold "measured about 13 diagonal inches, and folded up, it looked compact like a book." But Forrester Research technology analyst Frank Gillett "predicted that foldable devices would be unpopular, largely because of their high price tags and limited use cases." Lenovo's ThinkPad X1 will be priced at about $2,500 when it ships later this year.
Digital Trends has a more enthusiastic take on Lenovo's ThinkPad X1, noting that, when folded, "it resembles a Moleskin notebook … [and] open, it looks like an enlarged Galaxy Fold." It adds that "the gorgeous 13-inch, 4:3 display" is a tablet, laptop and desktop, all in one and "the keyboard makes it all work."
"It might sound radical," DT concludes. "But when we put our hands on it for the first time, nothing made us more excited for the future of laptops than the Lenovo ThinkPad X1 Fold."
Related:
2020 Might Be the Year of Reasonably Okay Foldable PCs, Maybe, The Verge, 1/9/20
Intel, Lenovo Spread Foldable Computer Fever at CES, Tech Xplore, 1/8/20
Forget Foldable Phones, Intel Has the Largest Foldable OLED PC at CES 2020, Android Authority, 1/7/20
CES 2020: Intel Teases the World's First 17-Inch Foldable OLED PC, Digital Trends, 1/6/20
The ThinkPad X1 Fold Made Me a Believer in the Foldable PC, Digital Trends, 1/9/20
Lenovo Flaunts Its Foldable PC, The ThinkPad X1 Fold, Wired, 1/6/20
Topics:
Android
,
App
,
CES 2020
,
CTA
,
Dell
,
Dual Screens
,
Foldable Screens
,
Foldable Tablets
,
Forrester Research
,
Frank Gillett
,
Galaxy Fold
,
Horseshoe Bend
,
Intel
,
Laptop
,
Lenovo
,
Microsoft
,
Moleskin
,
Notebook
,
Ori
,
Prototype
,
Stylus
,
Tablet
,
TCL
,
ThinkPad X1 Fold
,
Virtual Keyboard
,
Windows
,
Windows 10X