Samsung has partnered with CJ ENM, a major Korean entertainment media production company to build a virtual production facility in South Korea. CJ ENM, which previously inked a deal with Epic Games to use its Unreal Game engine, will rely on Samsung's next-generation MicroLED display, also known as "The Wall." The facility will open later this year in Paju, Gyeonggi Province. Because of the savings offered to film and television via virtual production, the Göteborg Film Festival predicted it will be the norm in filmmaking in five years.
Engadget reports that, "Samsung says its latest screens will deliver improved visuals thanks to their support for HDR10+ and optimized frame rates such as 23.976Hz, 29.97Hz and 59.94Hz." The Wall "measures over 1,000 inches and supports up to 16K high-resolution content." For CJ ENM's new complex, Samsung "will install an oval-shaped main display … with a diameter of 20 meters and a height of seven meters or more."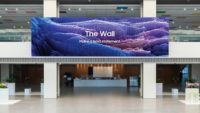 Japan took even stronger measures to adopt virtual production, paying $250 million to buy a minority stake in Epic Games. It also "bought virtual production software maker Nurulize in 2019 and integrated it into Sony Innovation Studios, the state-of-the-art facility located on the Sony Pictures Studios lot."
The Verge reports that Samsung's new version of The Wall, the modular MicroLED display, "is aimed at businesses and commercial applications rather than homes, and Samsung's promotional images showcase it being used as a huge display in a retail environment."
The new version includes "LEDs that are up to 40 percent smaller than last year, which Samsung says should lead to higher contrast and better color uniformity … [and] the purity of The Wall's colors has also been improved over the 2020 model." Samsung added that its new AI processor "further improves picture quality and contrast and removes noise." Also improved are docking connection, which has a wireless design, and "the display's depth which has been cut in half."
The display can be "arranged in a number of different configurations, including an ultrawide 15,360 x 2,160 16K resolution," and Samsung said the latest model "can be arranged to be concave, convex, or installed in other positions like being hung, mounted to a ceiling, or installed in the shape of an 'L'." Samsung also reported that the new version "has a peak brightness of 1,600 nits, while the best of LG's OLEDs still peak at under 1,000."
More information about The Wall is available in the Samsung Newsroom.