Beginning next quarter, JetBlue passengers on select aircraft will be able to stream movies, TV shows and music on seat-back display screens and personal devices through their Amazon Prime accounts at no additional charge. According to JetBlue, passengers who are not Prime members will have the option of registering inflight for a 30-day free trial to watch videos immediately. Passengers will also be able to rent or purchase content. The new service will be transmitted via JetBlue's Fly-Fi inflight broadband.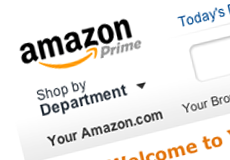 "The New York-based airline uses partnerships like those with Amazon to provide free access to its inflight Wi-Fi, an amenity for which competitors levy fees," reports Bloomberg. "JetBlue declined to disclose terms of the Amazon agreement or the cost of the program."
The service will include the ability to purchase and download songs, e-books and games.
"The accord gives the world's largest online retailer access to a captive audience of potential customers for its Prime service for entertainment and discounts on deliveries," notes the article. "JetBlue, meanwhile, gets another digital offering separate from its signature seat-back display screens."
The service will become available next quarter on JetBlue's Airbus Group NV A320 and A321 aircraft. Plans include adding the service to Embraer E190s sometime next year.