The competition for global computer chip dominance depends largely on who can create the smallest components with the most advanced capabilities. So far, Taiwan-based TSMC leads, and the nation accounts for more than 90 percent of global production of advanced chips. By comparison, the U.S. claims about a 12 percent share, prompting the government to cite reliance on foreign-made processors as a cause of inflation and a national security threat. California-based Intel is heeding the challenge, spending billions on initiatives for AI computing, a high-end microprocessor plant expansion in Arizona and new plant in Ohio.
A peek under the hood at Intel's existing facilities in Chandler, Arizona and Hillsboro, Oregon has prompted The New York Times to explain the nuances behind the microchip battle: "Many of those tiny components are produced on a piece of silicon and connected to work together. The resulting chips store data, amplify radio signals and perform other operations," including "most of the calculating functions of a computer."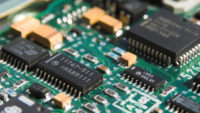 While "Intel has managed to shrink transistors on its microprocessors to mind-bending sizes," NYT reports, the rival TSMC "can make even tinier components, a key reason Apple chose it to make the chips for its latest iPhones."
Beyond that, "such wins by a company based in Taiwan, an island that China claims as its own, add to signs of a growing technology gap that could put advances in computing, consumer devices and military hardware at risk from both China's ambitions and natural threats in Taiwan such as earthquakes and drought," NYT says, pointing "a spotlight on Intel's efforts to recapture the technology lead."
TSMC has in recent years been operating "gigafab" sites, each with a minimum of four production lines, according to NYT, which cites estimates from TechInsights vice chair Dan Hutcheson for each site's processing capability at more than 100,000 wafers a month, "compared to the capacity of Intel's two planned $10 billion facilities in Arizona at roughly 40,000 wafers a month each."
NYT calls circuit boards "a new battleground," noting that "where packaging a handful of chips together is now routine, Intel has developed one advanced product that uses new technology to bundle a remarkable 47 individual chips, including some made by TSMC and other companies as well those produced in Intel fabs."
Such techniques are integral to chips purposed for machine learning, which are built on so-called neural networks that simulate the activity of the human brain.
In AI, Intel aims to surpass Nvidia, which The Wall Street Journal calls "the leader in the market for chips designed to excel at AI computations." Sandra Rivera, named executive vice president and general manager of the Datacenter and AI Group at Intel last summer, has shifted the company's focus to "using AI to reach customers' business goals, rather than offering a menu of chips and letting customers figure out the rest."
While AI chips still represent a relatively small segment of the overall chip market, it is rapidly growing, according to WSJ, which says "the AI chip market was worth around $8 billion in 2020, but is expected to grow to nearly $200 billion by 2030, according to a report from Allied Market Research."
Topics:
Allied Market Research
,
Apple
,
Arizona
,
Artificial Intelligence
,
California
,
China
,
Chips
,
Computer Chips
,
Dan Hutcheson
,
Fabs
,
Intel
,
iPhone
,
Machine Learning
,
Microprocessors
,
National Security
,
Neural Networks
,
Nvidia
,
Ohio
,
Oregon
,
Sandra Rivera
,
Semiconductors
,
Silicon
,
Taiwan
,
TechInsights
,
TSMC