Apple Watch may have surpassed global pre-orders of 2.3 million units last week, according to unofficial figures from KGI Securities analyst Ming-Chi Kuo. The most popular model is the Apple Watch Sport says Kuo, who has an impressive record of predicting sales of Apple devices. If the figures are accurate, they almost double the 1.25-1.5 million in sales projected for the first weekend. Meanwhile, Apple is introducing workshops called 'Apple Watch Basics' at its Apple Store locations to show consumers how to use the new wearable.
According to Kuo, the Apple Watch Sport (the least expensive model) represents 85 percent of orders. The Apple Watch represents 15 percent and Apple Watch Edition less than 1 percent.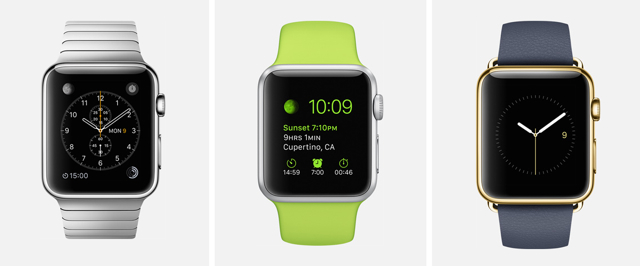 "The Apple Watch's momentum speaks to the ingeniousness of Apple's release strategy," suggests Digital Trends. "Alongside online-only pre-orders, the company began offering 'personalized' appointments at Apple Stores last week to help customers find a suitable fit and finish. That's given buyers on the fence time to evaluate the offerings, but also given the Apple Watch an aura of exclusivity few gadgets manage to attain."
Most projections indicate Apple Watch sales will reach 10 million to 32 million units for the fiscal year. "According to a poll conducted by Reuters and Ipsos, Apple may already be there in terms of intended purchases — six percent of Americans, or 15 million people, plan to purchase the Apple Watch," notes DT.
The Apple Watch Basics workshops, expected to run 45-75 minutes, will begin April 24 when the first wave of buyers will receive their watches.
"While some might suggest Apple's roll out of classes for the Apple Watch shows the device has a user interface that some may find difficult to master without special guidance, it should be noted that the company already offers a variety of in-store sessions for other products, including the iPhone, its Mac computers, and iCloud," explains Digital Trends in a related post.
Topics:
Apple
,
Apple Store
,
Apple Watch
,
Apple Watch Basics
,
Apple Watch Edition
,
Apple Watch Sport
,
Apps
,
iCloud
,
iPhone
,
Ipsos
,
KGI Securities
,
Mac
,
Marketing
,
Ming-Chi Kuo
,
Retail
,
Reuters
,
Sales
,
Training
,
UI
,
Watch
,
Wearable
,
Workshop