Netflix has licensed "Squid Game" rights to location-based game destination Immersive Gamebox, which will launch an interactive — and safe — version of the deadly competition, at U.S. locations including Manhattan, Dallas, Salt Lake City and San Jose, as well as overseas sites in the UK and Germany. Fans who purchase a ticket for $24.99 to $39.99 (£20.62 to £32.98) can participate in all six challenges from the show using 3D motion tracking visors and touchscreens placed around the room. Players that don't "survive" will lose "lives," while winners "earn money in the piggy bank," though not actual cash. 
Launching September 21, the hour-long game experience will pit players against each other in rounds of Red Light Green Light, Dalgona, Tug of War, Marbles, Glass Bridge and Squid Game. As with the popular Netflix show from South Korea, the players who pass one round advance to the next.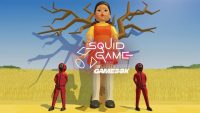 Recommended for those 16 years or older, the game accommodates from two to six participants. "With 3D motion-tracking visors and touchscreens, players can enjoy the experience without having to wear bulky headsets," TechCrunch points out.
"It's safe to say the Korean drama made a big impression on viewers, as the hit series had 1.65 billion hours viewed in the first four weeks of release," TechCrunch reports, "not to mention the hundreds of people dressing up as the characters for Halloween last year." With a budget of $21.4 million, the Seoul surprise hit generated "$891.1 million in impact value, according to documents obtained by Bloomberg," writes TechCrunch.
In June, Netflix announced a "Squid Game" renewal, promising season 2 is "about to slap even harder." The streamer, which has more than 220 million worldwide subscribers, is also producing a game show "Squid Game: The Challenge," an unscripted show that "turns the scripted world of the drama into reality with a cash prize of $4.56 million," according to NBC News.
Announced in June, the 10-episode series is currently casting, and has yet to set a premiere date. Meanwhile, Immersive Games has brand extension plans of its own, with a 2023 expansion that includes new locations in Los Angeles, Brentwood, Denver, Orlando, Las Vegas and 10 new locations in New York City.
Netflix also announced a new slate of mobile games. "One game, in particular, called 'Before Your Eyes,' uses eye-tracking technology that progresses the story every time the camera detects that you're blinking," says TechCrunch.
Netflix has been looking for ways to boost subscriber stickiness. "In its last earnings report, Netflix disclosed a subscriber loss of 970,000," TechCruch writes, calling it the streamer's "largest quarterly loss ever."
Topics:
3D
,
Before Your Eyes
,
Brentwood
,
Denver
,
Eye Tracking
,
Games
,
Halloween
,
Headsets
,
Immersive Gamebox
,
Interactive
,
Las Vegas
,
Location-Based Entertainment
,
Los Angeles
,
Mobile Games
,
Motion Tracking
,
Netflix
,
New York City
,
Orlando
,
South Korea
,
Squid Game
,
Squid Game: The Challenge
,
Streaming
,
Subscription