IMAX is looking to expand beyond film exhibition, and is adding a regular slate of concerts, stand-up comedy performances and eSports tournaments, in addition to other attractions. The company's new era launched in December with the live stream of Kanye West's "Black Skinhead" concert, which took place at the Los Angeles Memorial Coliseum and simultaneously beamed to 35 IMAX theaters, which sold out, adding an additional 10,000 seats. Last week, the company reteamed with West, streaming his "Donda 2" show from Miami to 60 IMAX theaters for an additional 18,000 tickets priced between $20 and $30.
Gwen Stefani in December hosted an IMAX fan event, screening the movie "Elf" from her house and promoting her Christmas album. Steven Spielberg was joined by "West Side Story" cast members on the large-format IMAX screen for a post-film discussion.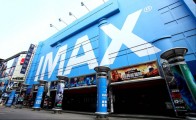 Peter Jackson took questions following an IMAX theatrical exclusive of his Disney+ documentary "The Beatles: Get Back," while A24 and Apple TV presented an exclusive one-day IMAX screening of "The Tragedy of Macbeth" followed by a live-streamed Q&A with actress Frances McDormand and director Joel Coen.
"If you don't keep reinventing yourself, you're not going to move your business forward. So we've been working for the last few years on events, what we informally call IMAX 3.0. The world is changing, and the movie industry is changing," IMAX CEO Richard Gelfond told The New York Times.
Gelfond "was referring to the ascendance of streaming services and the decline of traditional moviegoing," trends that "have been percolating for years, but they intensified during the pandemic, when many theaters were closed," explains NYT.
Deadline reports that Gelfond hopes "to have 200 screens wired for live events by year end, up from 79 currently, as it experiments with content beyond music, and with ticket pricing."
IMAX has a network of 1,700 theaters in 85 countries. "About 70 locations have been upgraded with instant-simulcast technology, which equates to about 25,000 seats, roughly the capacity of Madison Square Garden," NYT writes.
Last week, IMAX reported its strongest quarterly revenue, operating income, and earnings per share since 2019, accruing $108.6 million for the three months that ended December 31, a 94 percent increase year-over-year. IMAX also reported $10.1 million in quarterly net income versus a loss of $21.2 million in 2020. For the year 2021, IMAX drove global market share to 3 percent, its best performance ever.
In the fourth quarter IMAX "launched a major streaming partnership with Disney+, and created a series of exclusive events connecting theatrical and streaming in a way that few brands can," Gelfond said in the earnings release.
Topics:
A24
,
Apple TV
,
Concert
,
Disney Plus
,
eSports
,
Frances McDormand
,
Gwen Stefani
,
IMAX
,
Joel Coen
,
Kanye West
,
LA Coliseum
,
Large Format Film
,
Live Streaming
,
Madison Square Garden
,
Movie
,
Peter Jackson
,
Richard Gelfond
,
Steven Spielberg
,
The Beatles: Get Back
,
The Tragedy of Macbeth
,
West Side Story