Facebook's Oculus VR announced that its new Oculus Quest wireless virtual reality headset will debut in spring 2019 with an original Star Wars VR story from Disney's ILMxLAB. "Vader Immortal: A Star Wars VR Series," which will have three parts, will be led by executive producer/writer David S. Goyer, who wrote "The Dark Knight" trilogy and "Call of Duty: Black Ops." Other participants include ILMxLAB director of immersive content Mohen Leo and Oculus head of experiences Colum Slevin.
VentureBeat reports Goyer promised that "Vader Immortal" will be a "gold standard" experience in which users will be able to "wield a lightsaber in a 360-degree, wireless VR experience." The VB reporter interviewed Goyer, Leo and Slevin at last week's Oculus Connect 5 event. Slevin reported that his team had been speaking with xLAB when "Oculus Quest wasn't formally on the road map yet."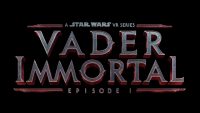 "It took some time for the stars to align around what we wanted to do," he said. "I was really excited about helping to bring a Star Wars story to the platform … [when] Oculus Quest came into view — that was the last piece for us, to realize that untethered VR and 360 degrees of motion with a lightsaber would be amazing."
With regard to the challenges of writing for VR, Goyer said that he had to "re-learn, un-learn a lot of things, a lot of assumptions." "We started off with a full script and then realized, as soon as we did the very first test, that we had to throw a lot of assumptions out the window," he said. "When we first approached it, two and a half years ago, three years ago, there was a thought that in some ways it might be a VR version of immersive theater, where you're watching a play and you have freedom to move around and observe it from different points of view. Ultimately we evolved this sort of iterative process."
Leo said they learned that "we have to make the experience about you as the user, the person in the experience."
"What we found early on is that if you have two other characters talking to each other, pretty quickly — much faster than in the movies — people start zoning out," he added. "But as soon as a character turns to you and speaks to you? You suddenly have the attention. You feel like you're part of the story." Goyer suggested that "the flip side" of that is when "Vader is paying attention to you, almost everything else fades away."
"You don't hear anyone else talking because you're so intimidated," he said. "That informed a lot of what we did."
Pacing was another key feature, said Leo, who added that, "you can't drag people at a particular speed through the experience." "You give them a bite of story, let them digest that, and then they can decide when they're ready to move on," he said.
The official trailer for "Vader Immortal" is available on YouTube.