During CES 2020 in Las Vegas this month, IBM announced its continued efforts to develop practical applications using quantum computing. The company emphasized the expansion of IBM Q Network, which now includes more than 100 organizations across industries such as air travel, automotive, banking, electronics, energy, health and insurance. IBM announced new collaborations with Anthem, Delta Air Lines, Georgia Tech, Goldman Sachs, Los Alamos National Laboratory, Stanford University, Wells Fargo and Woodside Energy, in addition to a number of government research labs and startups.
"These organizations join over 200,000 users, who have run hundreds of billions of executions on IBM's quantum systems and simulators through the IBM Cloud," explains the press release. "This has led to the publication of more than 200 third-party research papers on practical quantum applications."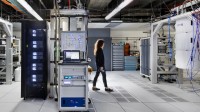 The IBM Q Network was introduced in 2017 and attracted 40 clients by January of last year. Other IBM quantum-computing clients include Accenture, Daimler AG, ExxonMobil, Honda, JPMorgan Chase, Samsung, among others. 
"Clients of the network pay to use some of the company's 15 early-stage quantum-computing machines via the cloud," reports The Wall Street Journal. "The service also offers access to developer tools and expertise from IBM's quantum-computing staff." Other major tech players such as Amazon and Microsoft "also allow customers to experiment with quantum-computing hardware over their respective clouds."
IBM announced it plans to install its first IBM Q System One commercial quantum computers outside the U.S., at Fraunhofer-Gesellschaft in Germany and with the University of Tokyo. 
"We are entering the quantum age, and IBM is working with our partners to apply this new technology in a way that can solve major business and societal problems," said Dario Gil, director of IBM Research. "Quantum computing will have a profound impact on key issues like finding new materials to capture carbon in the global fight against climate change, as well as the discovery of new chemistries that might power more energy efficient batteries."
Topics:
Accenture
,
Amazon
,
Anthem
,
CES 2020
,
Cloud
,
CTA
,
Daimler AG
,
Dario Gil
,
Delta Air Lines
,
ExxonMobil
,
Fraunhofer-Gesellschaft
,
Georgia Tech
,
Goldman Sachs
,
Honda
,
IBM
,
IBM Cloud
,
IBM Q Network
,
IBM Q System One
,
JPMorgan Chase
,
Los Alamos National Laboratory
,
Microsoft
,
Quantum Computing
,
Samsung
,
Stanford University
,
University of Tokyo
,
Wells Fargo
,
Woodside Energy