After introducing the PC-driven Vive Cosmos virtual reality headset last year, HTC just debuted four new VR headsets: the Cosmos, Cosmos Play, Cosmos Elite and Cosmos XR. The headsets are similar to the original Vive Cosmos in terms of technology and modular design, the latter aimed at encouraging widespread distribution. According to HTC, Cosmos Play is the entry level headset, a basic model that will be the least expensive, and the Vive Cosmos will be HTC's latest flagship product, a successor for the original Vive.
Wired reports that the Cosmos Play (below), "has four sensor cameras instead of the six that come standard on the midrange Cosmos headset," but still offers inside-out tracking, which means the user "won't need to worry about setting up external sensors around the room to track [her] position in the virtual world."
But the limited number of sensors also means that, "room-scale experiences aren't going to be able to discern your position within the space as accurately." Those who buy Play will be able to upgrade by buying "a new faceplate with some extra sensors" that will simply snap on … "also add a couple controllers and you've effectively turned your Cosmos Play headset into the more powerful standard Cosmos headset."
The flagship Vive Cosmos, available now for $700, "features six sensor cameras for additional waist and vertical tracking, and it comes with two controllers." It can be upgraded to a Cosmos Elite "by buying a few accessories."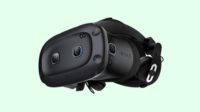 The Cosmos Elite (above), considered HTC's highest-end model, is "bundled with an external tracking faceplate, two external tracking lighthouses, and two Vive controllers." Priced at $900, the Cosmos Elite is expected to be available "later in the first quarter of 2020," with pre-orders having begun February 24.
Last, the Cosmos XR is HTC's most powerful headset and, as such, is "primarily a development tool." It is also the company's first mixed-reality headset with "two pass-through cameras to allow information and AR elements to be overlaid on top of the real world." Wired reports that, "the XR is designed to appeal to the same audience as the Microsoft HoloLens."
The as-of-yet unpriced headset is anticipated to debut as a developer kit in Q2 this year.