Taiwanese electronics company HTC has introduced a new Vive Guardian feature for its popular VR headset, the HTC Vive. The safeguard is designed to limit access to apps while children are cavorting in the metaverse, and experts say it's a much needed step in an environment that thus far lacks kid profiles and parental safety settings. HTC, Meta Platforms and others suggest VR be used only by those over the age of 13, but at this point, it's only a recommendation, and calls are already amplifying to put child safety measures in place.
"Harassment in the metaverse is turning into an increasing problem," writes CNET. A BBC article warns that the "metaverse app allows kids into virtual strip clubs," with a news researcher for the media outlet writes of finding "a toxic combination of risks" that included sexual grooming, inappropriate material, "racist insults and a rape threat in the virtual-reality world."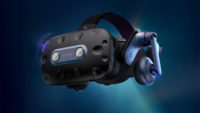 Engadget is also sounding an alarm, writing of "a child safety problem" with the VRChat app available for download through the Meta Quest store, as well as through Steam. "With some understanding of Unity, players can create their own social spaces and avatars. That means you can see a lot of creativity on display in VRChat, but there's also a dark side to it," the Engadget article says, citing graphic details from the BBC article.
CNBC warns that the "myriad negative effects of social media on the psyches of children and adolescents, from the prevalence of bullying and harassment to self-esteem and body image issues" might be as bad, or even worse, "in the wide-open metaverse, with its series of vast virtual worlds intended for both work and play." But if tech firms address these serious issues head-on, preemptively adding solutions into metaverse products, "they could actually benefit children's mental health," CNBC says.
Vive Guardian may be one such effort. "Apps can be blocked from use, disappearing from access and PIN codes set up to control unwanted purchases or access to apps. There's also streaming/monitoring of VR content to a connected phone," like the Meta Quest 2 does, according to CNET. Vive "will also enable a mode where individual pieces of content like videos can be streamed to the headset on demand, too."
While the Vive Guardian doesn't appear to allow the creation of actual children's accounts in what HTC calls the "Viverse," "the feature effectively works like a profile," CNET quotes HTC global head of hardware products Shen Ye as saying.
Topics:
App
,
Avatar
,
Bullying
,
Children
,
Gaming
,
Harassment
,
HTC
,
HTC Vive
,
Kids
,
Mental Health
,
Meta
,
Meta Platforms
,
Meta Quest 2
,
Metaverse
,
Parental Controls
,
PIN Codes
,
Safety
,
Shen Ye
,
Social Media
,
Steam
,
Taiwan
,
Unity
,
Video
,
Virtual Reality
,
Virtual World
,
Vive Guardian
,
Viverse
,
VR Headset
,
VRChat