HP unveiled its first Chromebook last week, joining Samsung, Acer and Lenovo as companies manufacturing hardware that now supports Google's Chrome OS. The Pavilion 14 Chromebook is the largest offering to date, with a display that is about 2-inches wider diagonally than any Chromebook currently on the market. It also comes with 100GB of free storage on Google Drive for two years.
"The Pavilion 14 comes with typical Chromebook specs," reports Digital Trends. "It runs on a 1.1GHz Intel Celeron processor, 2GB of RAM, and a 16GB solid-state drive. Unlike the other Chromebooks, though, it has a 14-inch 1,366 x 768 pixel screen instead of the usual 11- or 12-inch display, so it also weighs considerably more at 4 pounds."
Additional features include hardware security via the built-in Trusted Platform Module, Altec Lansing speakers, an HP TrueVision HD Webcam, three USB 2.0 ports, an Ethernet port and an SD card slot.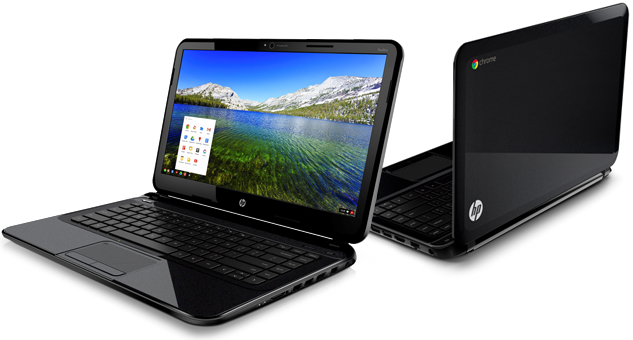 According to the HP press release: "It provides a fast and easy gateway to a seamless Google experience with popular products like Search, Gmail, YouTube, Google Drive and Google+ Hangouts for multiperson video chat as well as access to apps in the Chrome Web Store."
"With the HP Pavilion Chromebook, customers can effortlessly and quickly access Google applications, social networks, websites and other content such as photos and documents," notes HP. "Constant automatic updates to applications and the Chrome OS mean that software and security is effortlessly kept up to date."
It is more expensive than other Chromebooks on the market, however. It sells for $330, compared to the Samsung Series 3 which costs $250 or the Acer C7 priced at $199. "Also, it has a rated battery life of 4 hours and 15 minutes, which can't compare to the more than 7 hours we squeezed out of the Samsung Series 3 Chromebook when we tested it for review," notes Digital Trends.