The online streaming service HBO GO, which allows subscribers to watch their favorite HBO content via mobile devices and PCs, may be revamping its access. The premium cable channel is considering teaming with broadband Internet partners in order to provide its service to customers who do not subscribe to a cable TV service. This could lead to competition with popular streaming sites such as Netflix and Amazon Instant Video.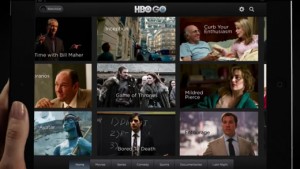 "HBO GO is only accessible for viewers who pay for cable TV service, plus an extra fee for HBO," reports Reuters. "This means monthly bills of $100 or more typically. HBO GO is available to subscribers of several pay TV companies that provide Internet service such as Time Warner Cable, Comcast and Verizon FiOS."
HBO CEO Richard Plepler suggests that HBO GO could be packaged with a monthly Internet service, which would reduce the cost for subscribers.
"Customers could pay $50 a month for their broadband Internet and an extra $10 or $15 for HBO to be packaged in with that service, for a total of $60 or $65 per month, Plepler explained."
"We would have to make the math work," Plepler added.
With the new plan, HBO GO would likely cost an extra 10-15 dollars on top of Internet services. However, this plan may not be in the best interest for the Time Warner-owned channel. HBO "relies on large financial support from its cable and satellite TV partners to help distribute and promote its shows," notes Reuters.
HBO's traditional distribution partners provide lucrative subscription fees, which could make this a risky proposition.
"The current model is good to them. If it starts to break down, I'm sure HBO will evolve," BTIG analyst Richard Greenfield told the Chicago Tribune. He also added that HBO GO gives the channel a competitive edge as more users are accessing video streaming through mobile devices.
Topics:
Amazon
,
Broadband
,
BTIG
,
Business
,
Cable Programming
,
HBO
,
HBO GO
,
Internet Services
,
ISP
,
Netflix
,
Online Streaming
,
Plepler
,
Streaming
,
Video On Demand
,
VOD