GoPro just introduced the Karma Drone, priced at $799, and two new Hero cameras: the Hero5 Black, priced at $399, and the Hero5 Session, for $299. The cameras will release on October 2 and the drone will ship on October 23. The Karma Drone, which is small and folds into the rectangular backpack it comes with, requires no assembly: its four arms, each of which sports a rotor, fold down against the body to store and snap into place for action. The drone itself is very flat, which makes it easy to carry.
According to Wired, "like most drones of this caliber it has a 3-axis gimbal to stabilize video, but unlike others, the camera hangs off the front of the drone and keeps the propellers out of the shot."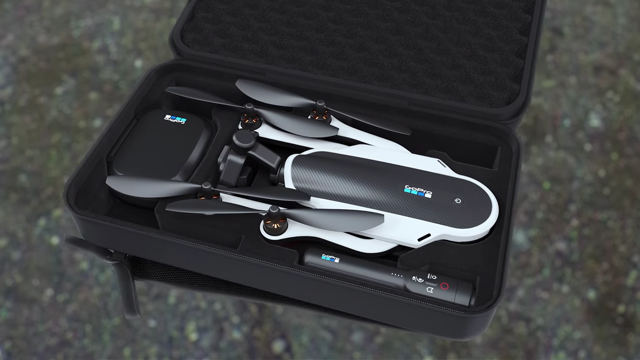 The gimbal can also be detached and then reattached to the Karma Grip, which is included with the drone and offers buttons "to control the camera's shutter, modes, and the angle of the gimbal." The gimbal can also be attached to other mounts.
Karma can be paired with any GoPro Hero4 or Hero5 camera, which "will offset the cost somewhat and give you more options for upgrading over the years." GoPro also offers a Karma/camera package: $999 with the Session or $1,099 for the new Hero5 Black.
Wired calls the new cameras "a big upgrade," noting that the "previous flagship, the Hero4 Black, was maddeningly missing a screen, even though the mid-range Hero4 Silver had one." The two cameras were a trade-off between frame rates and ease of use.
The new Hero5 Black "shoots 4K video at 30 frames per second and 1080p video at 120 fps (like the previous Black version), but now it has a two-inch touch display in the back, and it boasts simplified controls." The camera also features three microphones and voice control via seven languages.
Other firsts are the addition of GPS, the ability to tag videos with locations, and electronic image stabilization, as well as the ability to shoot RAW and WDR (wide dynamic range) photos and a "distortion free" wide-angle mode for photo and video.
The camera also auto-uploads photos/video to the cloud via GoPro Plus, a new subscription cloud service which includes a "large library of royalty-free music" and "20 percent off of mounts and accessories." GoPro's editing app Quik will arrive on the desktop in late September.
Topics:
1080p
,
4K
,
Action Cam
,
Cameras
,
Cloud
,
Drones
,
Editing App
,
Gimbal
,
GoPro
,
GoPro Plus
,
GPS
,
Handheld
,
Hero4 Black
,
Hero4 Silver
,
Hero5 Black
,
Hero5 Session
,
Image Stabilization
,
Karma Drone
,
Karma Grip
,
Location Tags
,
Music
,
Photos
,
Production
,
Quik
,
RAW
,
Royalty-Free Music
,
Subscription
,
Touch Display
,
Video
,
Voice Control
,
WDR