GoPro's latest action camera, the Hero11 Black, which comes with an improved 1/1.9 sensor that offers impressive flexibility in "Full Frame" mode, which lets you shoot once, then output video at multiple aspect ratios (4K, 16:9 for YouTube; 9:16 for TikTok) with different framing but no loss in image quality. Video resolution tops out at to 5.3K at 60fps, with still grabs of 24.7 MP and 27 MP photos. Other new features include 10-bit color, an 8:7 aspect ratio (to complement the existing 16:9 and 4:3) and HyperSmooth 5.0, a notably improved iteration of GoPro's image stabilization.
The list of upgrades is long, noteworthy, and detailed on the GoPro Hero11 Black landing page. Engadget writes that the basic Hero11 "costs the same as last year's flagship: $399.98" with a GoPro subscription "or $500 without."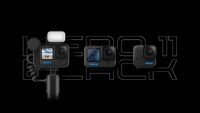 A $700 Creator Edition ($580 for subscribers) includes additional mics, a battery grip and LED and HDMI ports. There is also a Hero11 Black Mini available October 25 that offers high-performance specs in a tiny package, for $400 ($300 for subscribers). GoPro subscriptions start at $49.98 per year and include cloud storage and auto-generated highlight vids with models Hero5 and newer.
Introduced last year as an upgrade, the Enduro Battery now "ships in-box with all the Hero11 iterations," extending recording life by up to 38 percent per charge, according to TechCrunch.
Other improvements include "Easy" mode "which uses a single preset for each of the three main shooting modes (Time Lapse, Video, Photo)," writes Engadget. There is also a new "digital lens," called HyperView that Engadget says is "a bit intense, but does make first-person shots feel faster and more immersive." And the HyperSmooth 5.0 image stabilization includes Horizon Lock, ensuing horizons stay level even if the camera tilts while recording.
San Mateo, California-based GoPro "recently hit two million subscribers for its premium service," writes TechCrunch, but adds that "long gone are the days when it was the only real game in town." The iPhone 14 Pro "adds some impressive optical image stabilization" and other action video-friendly features, TechCrunch says, citing its review of the new Apple phone.
Competition from what was once primarily a drone camera maker, DJI, and its Osmo 3, released this month, and another Shenzhen-based brand, Insta360 "has really started to put some serious pressure on GoPro," as Engadget sees it, concluding "it is possibly the best time in history to be buying what was formerly known as the action camera."
Related:
GoPro Has Launched Three New Hero11 Black Action Cameras, Digital Camera World, 9/14/22
The GoPro Hero 11's Big Upgrade Is a Smaller Version, The Verge, 9/14/22
Latest GoPro Changes a Lot Under the Hood, Axios, 9/14/22
GoPro Hero 11 Black Hands-On: A Super-Sized Sensor Adds Value for Everyone, CNET, 9/14/22