Google just introduced upgrades to its Gmail service, which includes a new look to the web app and a variety of new features. G Suite, its business-centric paid productivity service that includes Gmail, is the main focus of the upgrades, but many features will also be included in the free Gmail service. Gmail product manager Jacob Bank said the overhaul is intended to make "Gmail the most secure, the smartest, and the easiest to use email client" with "a ground-up rewrite" of the flagship Gmail product.
VentureBeat reports that, although Google stopped the practice of serving ads based on the content of emails, Gmail still scans emails to offer other services. Gmail will now offer a "confidential mode" on the web and mobile apps "designed to protect against two kinds of attacks."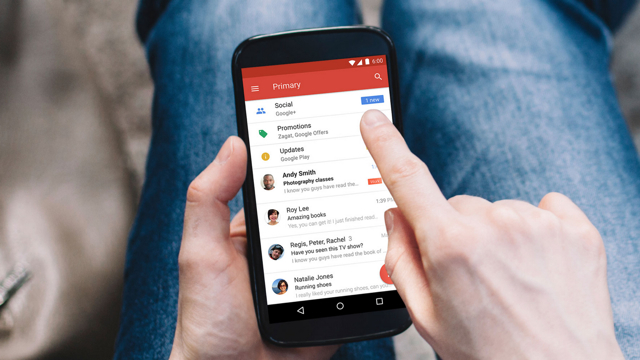 With confidential mode, an email "will automatically expire at a time of the sender's choosing." The email isn't sent over SMTP but instead sends the recipient a link to the content, and the email is not stored in the receiver's Gmail account (or in the cloud, if they're not using Gmail). That protects the sender against problems if the receiver's email service is hacked.
Second is a two-factor authentication capability; the sender can activate 2FA for a specific message, meaning the recipient must enter a passcode received by SMS to view the email. Confidential mode also "seeks to prevent 'accidental' or 'semi-malicious' leaks of information" by deactivating "forward," "download" and "print" via Information Rights Management controls.
Google now also makes its security warnings "bigger and more prominent … if Gmail detects questionable activity around a specific email."
Other new features include nudge, snooze, and smart replies. Nudge, which relies on AI, reminds users to follow up on a message they've received, but "only applies to emails older than two days."
Gmail will also "detect whether you've asked someone a direct question over email, and if you haven't had a response after three days the email will be nudged to the top of your inbox." The web version format will "more or less follow that of the existing smart replies on mobile." Google has also made it "easier for users to take action on an email."
A new snooze option, "similar to what already exists in Google's Inbox app," lets users "delay having to deal with an email until a time specified by" the user, and a new side panel gives the user "direct access to other G Suite apps, such as Google Calendar or Keep, as well as third-party Gmail add-ons for other services."
In the near future, Google plans to "introduce native offline functionality to the web app," which lets the user continue to work as though she is offline, "though of course the actual send/receipt of emails won't take place until an Internet connection is reestablished." Google Tasks is also now available as native mobile apps on Android and iOS. "Tight integrations across Gmail and the broader G Suite apps is the name of the game here."
G Suite users can "access the new Gmail as part of the G Suite Early Adopter Program (EAP)," activated from the admin console, and "consumers will also be able to start opting in from today through the settings section of their Gmail account."
Topics:
Android
,
App
,
Artificial Intelligence
,
Authentication
,
Cloud
,
Confidential
,
Design
,
Email
,
Enterprise
,
G Suite
,
Gmail
,
Google
,
Google Calendar
,
Google Keep
,
Google Tasks
,
Hacking
,
Information Rights Management
,
iOS
,
Jacob Bank
,
Mobile App
,
Nudge Feature
,
Offline
,
Passcode
,
Security
,
Smart Replies
,
SMS
,
Snooze Feature
,
Two-Factor Authentication