Google just added to its list of new hardware products with the Jamboard, a 55-inch 4K touchscreen that will sell for under $6,000 next year. The company's other hardware products include the new Pixel phone, Google Home, Chromecast, and Google Wi-Fi, the latter introduced this month. A digital whiteboard, Jamboard is the first hardware product from Google's so-called G Suite — cloud-based tools that include Gmail, Google Drive and Google Docs. G Suite tools are aimed at long-distance online collaboration.
Wired notes that these collaboration tools "break down once everyone is in the same room." "We thought that might somehow limit creativity," said G Suite director of product Jonathan Rochelle. "It made it so that when people wanted to be creative and collaborative, they can't do the same thing at the same time. That bothered us, because the reason you're in a meeting is to collaborate."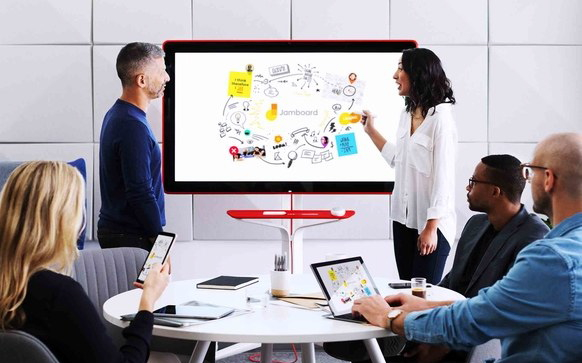 Unlike digital whiteboards such as Sharp's Aquos Board and Microsoft's Surface Hub, Google is able to connect Jamboard with other Google tools and cloud services. For example, the Jamboard session leader "can dial in participants via Google Hangouts" Users can drag-and-drop images, maps, videos and Web pages into a Jamboard session. Jamboard also features an HD camera and built-in Chromecast.
Jamboard is available as an Android or iOS app, which enables people to join in remotely. The Jamboard is "essentially replicated on the tablet," with the user able to add text, photos and drawings, rearrange items or pull in images from a side menu. A Jamboard session on a phone is more limited, but the user can see everything in real time and add text and sticky notes.
Jamboard's screen is pressure-sensitive and, although it comes with two passive styli, "any rubber-tipped stylus works and you can use your hand to erase things." The whiteboard's handwriting-to-text tool converts the messiest writing to searchable text. Jamboard doesn't have any internal memory, but each session is saved to Google Drive.
But there are limitations: "you can't really chip in on a laptop or desktop: You can watch a Jam session unfold in a browser, but you can only contribute via the mobile apps." A tablet user can "drive a meeting," but the Jamboard is "the ultimate mission control."
Topics:
4K
,
Android
,
App
,
Browser
,
Camera
,
Chromecast
,
G Suite
,
Gmail
,
Google
,
Google Docs
,
Google Drive
,
Google Hangouts
,
Google Home
,
Google Wi-Fi
,
iOS
,
Jamboard
,
Jonathan Rochelle
,
Microsoft
,
Mobile App
,
Pixel
,
Sharp
,
Smartphone
,
Surface Hub
,
Tablet
,
Touchscreen
,
Video
,
Whiteboard