Google unveiled its All Access streaming music service at this week's I/O developers conference in San Francisco. The service, viewed as a potential competitor to Spotify, also has some musicians concerned about a future in which music listeners choose subscriptions to access music libraries rather than paying to download individual songs. Industry execs, labels and artists are debating the pros and cons of cloud-based music distribution.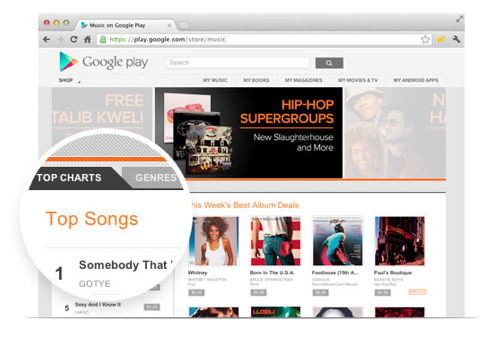 "Silicon Valley is betting on streaming largely because it's about to get squeezed, too," reports Businessweek. "On Tuesday, industry analyst Horace Dediu broke down the ways Apple makes money through iTunes. The revenue per user coming from music downloads is shrinking significantly, both in dollar terms and as a proportion of overall income. Last quarter, music downloads made up 27 percent of iTunes revenue, down from 47 percent in the third quarter of 2009."
"The inevitable result will be a mass migration of talent away from the established content industries," suggests Dediu. "Old media won't fade due to a loss of users. It will fade due to a loss of talent."
Services from the likes of Spotify — and now Google — are betting that cloud-based subscription services will help musicians and labels recoup the lost revenue from the drop in downloads. Spotify claims to have paid out more than $500 million in royalties since its launch.
However, people in the music industry, including many artists, remain skeptical of the streaming model. "Folk rocker Damon Krukowski examined his own paychecks from album sales and streaming services for Pitchfork," notes the article. "He concluded that a song of his would have to be played 47,680 times on Spotify or 312,000 times on Pandora to earn the profit of a single LP sale."
Giants such as Google, Apple and Amazon entering this arena could lead to positive change. They could make streaming music more popular, which could lead to fractions of a penny per play more enticing to labels and artists when considering, for example, Google's significant base of smartphone users.
"Big tech companies could also change the balance of power in the music business," suggests Businessweek. "This is a touchy subject: The wrangling over royalties between record companies and Google and Apple has already held up the launch of their services. Still, it's unlikely that record companies are going to be able to bully these companies into paying more than Spotify does."
Topics:
Apple
,
Business
,
California
,
Cloud
,
Dediu
,
Distribution
,
Download
,
Google All Access
,
I/O
,
iTunes
,
Krukowski
,
Label
,
LP
,
Model
,
Music
,
Musician
,
Pandora
,
Pitchfork
,
Record
,
San Francisco
,
Silicon Valley
,
Song
,
Spotify
,
Streaming
,
Subscription