Netflix has launched a new recommendation service called "Max" that chats with users and plays amusing games to help viewers discover new TV shows and movies. The games center on genres and actors to help gauge user preferences. Available only on the PlayStation 3 for now, the Netflix blog reports that Max will be available for other devices in the future, with the iPad version expected next. According to Netflix, Max is "rumored to be the child of Siri and HAL 9000."
"In one experience, 'The Rating Game,' Max lets you choose a genre of movie or television you'd like to watch and then asks you to rate programs from that category," explains The Huffington Post. "Max will then choose a show or movie for you, and will even give you a 30 second pitch if you're unsure."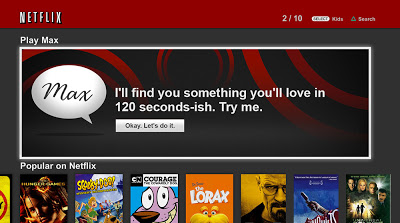 Other games include "Celebrity Mood Ring" and one that pits genres against each other (for example, "Talking Animals or Tortured Genius?") — both of which are designed to playfully help viewers identify content suited for their interests.
"Finally, there's 'Max's Mystery Call.' Here, you agree to let Max call the shots, and a movie or TV show will automatically play," notes the article. "If that feels too random and risky, know that Netflix has gathered an absurd amount of data on each subscriber's viewing preferences."
The gamification of Netflix's recommendation service comes from JellyVision, the minds responsible for the popular "You Don't Know Jack" game series. "The gameshow host-like character bleeds personality, and interacting with him is genuinely enjoyable," suggests Engadget in its largely positive review. "Max is a little less cheeky than YDKJ's Cookie Masterson, but the character is still very charming, and his antics make it an appealing experience."
"It may not be for everyone, but Max is definitely a novel and entertaining way to pick a film," concludes Engadget. "After all, it's better than getting lost in Netflix's endless streaming library, right?"
The Netflix blog includes a 3-minute video demo hosted by Pedro Freitas, senior manager product innovation.
Topics:
Apple
,
Chat
,
Cookie Masterson
,
Discovery
,
Film
,
Games
,
Gamification
,
HAL 9000
,
iPad
,
JellyVision
,
Movie
,
Netflix
,
PlayStation
,
PS3
,
Rating
,
Recommend
,
Review
,
Siri
,
Sony
,
Stream
,
Streaming
,
Subscription
,
Television
,
TV
,
Video
,
VOD
,
Voice
,
You Don't Know Jack