Game publishers have discussed raising the cost of video games, set at $60 in the 1990s, for decades, and are finally moving ahead with a plan to raise the standard price to $70, despite the doubling of U.S. unemployment due to the COVID-19 pandemic. Take-Two Interactive Software was one of the first to offer a $70 game with "NBA 2K1." Meanwhile, Microsoft promotes its Xbox Game Pass, a subscription service with 100+ titles for $10 per month. Sony plans to offer a subscription service with fewer titles.
Bloomberg reports that Take-Two chief executive Strauss Zelnick described the "prompt and swift backlash" to raising the game price to $70. "We charge much, much less than the value we deliver," he said. "That's our pricing strategy, if we have one."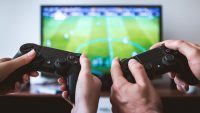 IDG Consulting head Yoshio Osaki agreed that prices haven't kept pace with cost of other media "like a movie ticket, Netflix or cable television," adding that, "since 2005, the cost to develop a game has tripled or quadrupled."
"Not all publishers will launch next-gen games at $70," he said. "However, we do anticipate that a growing percentage of games will launch at $70, but not all at once and not uniformly across every publisher or every game franchise."
Electronic Arts, for example, is giving "owners of its two biggest sports games a free upgrade to versions for the new consoles," and company chief finance and operating officer Blake Jorgensen said the "the company will outline pricing in six to nine months" for next year's games.
A Sony spokesperson said it is selling titles for as low as $50, with its "biggest games" priced at $70. Capcom said it is pricing games with a "title-by-title" approach. "We believe game software's price should be determined by how much money consumers are willing to pay for the quality, not by how much money we spend to make that game," said chief financial officer Kenkichi Nomura.
At DFC Intelligence, analyst David Cole noted that, "games published by Microsoft or Sony are more likely to undercut the competition in order to drive hardware sales," which is what both companies are already doing. But he added that, "the $70 game is here to stay."
VentureBeat reports that, according to The NPD Group, the U.S. "spent $11.2 billion on games and game-related purchases in 2020's third quarter (July to September), up 24 percent compared to same period in 2019." Also in 2020, Sony released its PlayStation 5 and Microsoft unveiled its Xbox Series X/S but, due to the popularity of gaming during the pandemic, sales of games didn't slow down as gamers waited for the new consoles to drop.
The NPD Group also reported that accessories saw a 335 percent increase in spending compared to 2019 and hardware saw a 16 percent growth.
Related:
New PlayStation and Xbox Arrive During a Pandemic Gold Rush, The New York Times, 11/12/20
Topics:
Blake Jorgensen
,
Capcom
,
Coronavirus
,
COVID-19
,
David Cole
,
DFC Intelligence
,
Electronic Arts
,
Game Publisher
,
Gaming
,
IDG Consulting
,
Kenkichi Nomura
,
Microsoft
,
Netflix
,
PlayStation 5
,
Sony
,
Strauss Zelnick
,
Take-Two Interactive
,
The NPD Group
,
Xbox Game Pass
,
Xbox Series X/S
,
Yoshio Osaki