The Ford Motor Company is extending its foray into self-driving car technology with a $1 billion investment in Argo AI, an artificial intelligence startup. The newly formed startup, led by former Google and Uber self-driving experts, will initially develop the technology for Ford before licensing it to other companies. The move is part of Ford's strategy to rebrand itself as more than a car manufacturer. The billion-dollar investment will roll out over the next five years. Argo AI will become a subsidiary of Ford that operates out of Pittsburgh, one of the main hubs of autonomous driving research.
The AI firm will also have offices in southeastern Michigan and the San Francisco Bay area. The office on the West Coast will expand Ford's efforts to join the ecosystem of Silicon Valley. The carmaker opened a research center in Palo Alto, California just last year.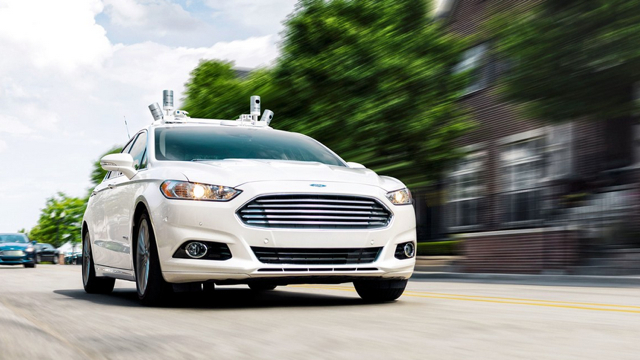 Ford is competing with tech and automotive companies alike to get self-driving cars on the road. General Motors, Chrysler, Nissan, Uber, Google and others are all trying to attract top talent to help build autonomous cars. Argo AI is looking to fill some 200 positions this year. "There is not a strong enough pipeline of talent coming out of universities today," Argo AI chief executive and co-founder Bryan Salesky said in The New York Times.
Autonomous vehicle technology is part of Ford's efforts to expand beyond car manufacturing. Ford's vision is to become a provider of "mobility services" because ride-hailing companies like Uber and Lyft have reduced city-dwellers' need for owning a car. Ford estimates that mobility services could generate 20 percent returns, which would be more profitable than the 8 percent returns from car manufacturing.
Argo AI is just the latest in a series of Ford's investments related to mobility services and self-driving technology. The company has also acquired SAIP, a machine learning and computer-vision company, and Civil Maps, a 3D mapping firm. Rival GM has made similar investments, including a $500 million investment in Lyft and the acquisition of a company the makes sensors for self-driving cars. Ford also created another subsidiary last year called Ford Smart Mobility, which acquired a shuttle service called Chariot.
Topics:
Argo AI
,
Artificial Intelligence
,
Autonomous Vehicles
,
Bryan Salesky
,
Chariot
,
Chrysler
,
Civil Maps
,
Ford
,
General Motors
,
GM
,
Google
,
Licensing
,
Lyft
,
Machine Learning
,
Michigan
,
Mobility Services
,
Nissan
,
Palo Alto
,
Pennsylvania
,
Pittsburgh
,
Robotics
,
SAIP
,
San Francisco
,
Self-Driving Cars
,
Sensors
,
Silicon Valley
,
Uber