At the North American International Auto Show in Detroit, Google unveiled a self-driving minivan built by Fiat Chrysler and featuring sensors and vision systems from Waymo, the company that spun off from Google parent Alphabet. The van is the first major collaboration between a Detroit car manufacturer and a Silicon Valley behemoth, and is an example of Waymo's strategy of partnering with automakers that may not want to fully shoulder the financial burden of building a self-driving car from scratch. General Motors and Ford Motor are building their own autonomous cars.
According to The New York Times, Google is offering car manufacturers another option to building it all themselves: "a ready-made package of self-driving equipment that can be integrated into mainstream vehicles."
Waymo chief executive John Krafcik says the company designed and built every part of that package to "safely handle the complex task of full autonomy," while reducing end costs of the autonomous driving components for auto manufacturers. In this way, says NYT, "Waymo is positioning itself as a mega-supplier to the industry, and a turnkey solution to transforming conventional cars into driverless models."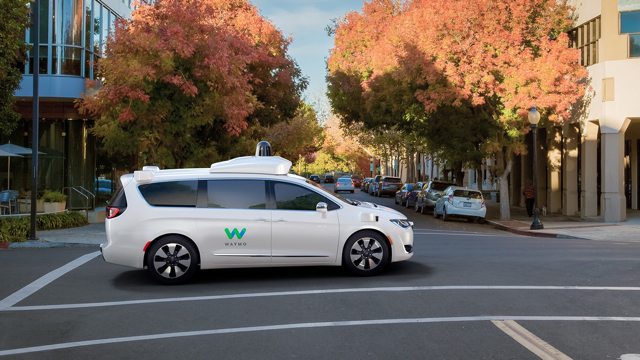 Morgan Stanley analyst Adam Jonas notes that the "auto industry has to date expressed a collective wariness to allow players like Alphabet too close to the data generated by today's car platform." Now, Waymo and Fiat Chrysler's collaboration has "whetted the interest of other automakers." Honda is in talks with Waymo, although companies like General Motors instead acquired outside companies to gain the engineering expertise required.
The Wall Street Journal notes how Waymo's own R&D has brought down by 90 percent the technology that creates a 3D view of the world. Its package is comprised of "a continuous 360-degree-view radar, eight vision modules and three different types of Waymo-built lidars," including lidar sensors for "short-range detection of small people and objects."
The Chrysler Pacific minivan will be "on the road in Arizona and California later this month" as part of its on-road testing that is now up to "almost 2.5 million miles in the past eight years." The company's goal is to reach 3 million miles by May.
Waymo reports that, "the rate of when the automated system disengages per thousand miles traveled fell to 0.2 in 2016 from 0.8 in 2015 in California." Bloomberg explains that a "disengagement" is when "a human tester needs to take control of a self-driving car, either to avoid an accident or respond to technical problems."
Six other autonomous vehicles have permits to operate in California, and five of them "reported worse disengagement rates than Alphabet." Volkswagen was the closest to Waymo's metric, with 17.4 disengagements per thousand miles.
"Our sensors are deeply integrated with the brain of our self-driving cars, our all-new AI-compute platform," said Krafcik. "Our self-driving software … combined with this Waymo hardware suite, is our most advanced self-driving system to date, it's capable of full autonomy."
Topics:
Adam Jonas
,
Alphabet
,
Arizona
,
Artificial Intelligence
,
Automotive
,
Autonomous Vehicles
,
California
,
Chrysler Pacifica Minivan
,
Detroit
,
Disengagement
,
Fiat Chrysler
,
Ford Motor Company
,
General Motors
,
Google
,
Honda
,
John Krafcik
,
Lidar
,
Morgan Stanley
,
North American International Auto Show
,
Radar
,
Self-Driving Cars
,
Sensors
,
Silicon Valley
,
Vision Systems
,
Waymo