The release of "Some Girl(s)" marks Vimeo On Demand's first foray into day-and-date releases. The film was directed by Daisy von Scherler Mayer and written by Neil LaBute, who adapted the script from his own stage play. The film's "path to viewers through Vimeo On Demand is a highly-visible milestone in the growing direct‑to-consumer distribution movement, as Hollywood and independent creators alike look to bring films to market with greater speed and flexibility," suggests the press release.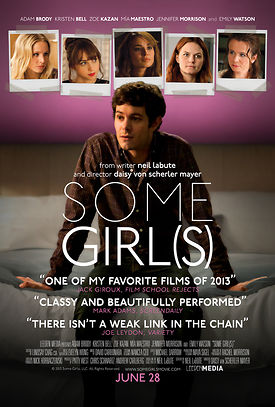 "The film also represents an important benchmark for Vimeo — just three months since the March 2013 launch of Vimeo on Demand, the service now offers over 1,400 films, and the broader Vimeo network now reaches a global audience of over 100MM unique users per month," adds the release.
The indie dramedy "follows Man (Brody) as he traverses the U.S., dropping in on old flames to make amends for past transgressions before he steps up to the altar," explains Variety. The role is a departure from Brody's usual boy-next-door projects. The film also stars Kristen Bell, Jennifer Morrison, Zoe Kazan, Mia Maestro and Emily Watson.
"Some Girl(s)" is also screening in select theaters in New York and Los Angeles.
"I think it's probably the future and it should have been the past," says LaBute of the unconventional release. "It's never been a greater time to be a viewer."
"This to me is the perfect intimate, interesting, visually compelling material — like a lot of independent films that weren't made on huge budgets — that is fine in your living room," adds von Scherler Mayer. "Perfect as long as you have 42 inches and really nice sound, you're good to go."
"Some Girl(s)" is available today via Vimeo On Demand as a $5 streaming rental and $10 download.
Related Stories:
Testing Distribution Waters, Vimeo On Demand Gets its First Feature Film, VentureBeat, 6/21/13
Coming To a Vimeo Screen Near You, The Wall Street Journal, 6/21/13
Topics:
Bell
,
Distribution
,
Download
,
Exhibition
,
Film
,
Hollywood
,
Independent
,
Indie
,
Kazan
,
Los Angeles
,
Maestro
,
Movie
,
New York
,
On Demand
,
Online
,
OWN
,
Rent
,
Some Girl(s)
,
Stream
,
Streaming
,
Video
,
Vimeo
,
VOD
,
Watson