The Federal Communications Commission is deliberating whether cable and satellite TV companies should have exclusive control of the set-top box, an idea applauded by Google and TiVo and vigorously opposed by the cable/satellite TV industry. Increased competition would lower costs and drive improvements in functionality, say Google and TiVo. Among the supporters of this idea is the COMPTEL trade group, whose membership includes Amazon and Netflix. The cable industry, already suffering losses to cord cutting, strenuously opposes the move.
Bloomberg quotes COMPTEL chief executive Chip Pickering as noting that "decades ago we ended the practice of forcing customers to lease a black rotary dial phone from Ma Bel."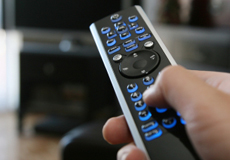 "The archaic practice of forced leasing a set-top box from the cable company is a holdover from a bygone era," he said.
The cable industry has good reasons to try to hold on to its set-top box business: rentals bring in $19.5 billion a year, according to a survey from U.S. Senators Ed Markey (D-Mass.) and Richard Blumenthal (D-Conn.) and cable companies are able to mine data for viewing patterns. Currently, 99 percent of cable and satellite TV customers rent set-top boxes from their service provider.
Markey proposes "a new, national consumer-friendly standard that will allow consumers to choose their own video box," which might be under consideration with the FCC's review of standards.
Among the players pushing for a new standard, besides Google, TiVo and Amazon, is the Internet Association trade group, whose members include Vimeo. In a statement against the move, Comcast, Charter Communications, Dish Network and AT&T (owner of DirecTV) note that, "the market is working without government intervention."
Topics:
Amazon
,
AT&T
,
Cable TV
,
Charter Communications
,
Comcast
,
COMPTEL
,
Connecticut
,
Cord Cutting
,
Data Mining
,
DirecTV
,
Dish Network
,
Ed Markey
,
FCC
,
Federal Communications Commission
,
Google
,
Internet Association
,
Massachusetts
,
Netflix
,
Richard Blumenthal
,
Satellite TV
,
Set-Top Boxes
,
STB
,
Television
,
TiVo
,
Vimeo