The Federal Communications Commission approved the merger between T-Mobile and Sprint yesterday, months after the Justice Department gave its approval. FCC chair Ajit Pai and Republican commissioners Brendan Carr and Michael O'Rielly indicated their support of the deal in May, believing that it would lead to a faster deployment of 5G. Democrats voted against the merger, and commissioner Jessica Rosenworcel argued that it would lead to higher prices and less innovation, ultimately impacting consumers. A coalition of state attorneys general are still attempting to prevent the merger with a multistate lawsuit.
Democrat Geoffrey Starks was the last commissioner to vote on the proposed merger. "In September, Starks put out a statement calling on the FCC to delay any votes on the merger until Sprint could be fully investigated for allegedly misappropriating Lifeline subsidy funds for around 885,000 ineligible accounts," reports The Verge.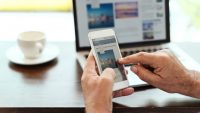 Yesterday, The Atlantic published an op-ed by Rosenworcel condemning such a deal between T-Mobile and Sprint, presently the country's third- and fourth-largest wireless carriers.
"The largest wireless merger in history is now headed toward approval," she wrote. "If you own a mobile phone — as 96 percent of American adults do — that's bad news."
She cites the airline and pharmaceutical industries as examples of the negative results of placing power in fewer hands.
"Shrinking the number of national providers from four to three will hurt consumers, harm competition, and eliminate thousands of jobs," according to Rosenworcel. "In deciding to overlook these harms, the FCC and the Department of Justice have been wooed by a few unenforceable concessions and hollow promises from the two companies involved. The T-Mobile–Sprint merger will end a golden age in wireless that helped bring to market lower prices and more innovative services."
Pai disagrees. "After one of the most exhaustive merger reviews in Commission history, the evidence conclusively demonstrates that this transaction will bring fast 5G wireless service to many more Americans and help close the digital divide in rural areas," he said in a statement. "Moreover, with the conditions included in this draft Order, the merger will promote robust competition in mobile broadband, put critical mid-band spectrum to use, and bring new competition to the fixed broadband market."
Topics:
5G
,
Ajit Pai
,
Brendan Carr
,
Broadband
,
Cell Phone
,
Digital Divide
,
DOJ
,
FCC
,
Federal Government
,
Geoffrey Starks
,
Internet
,
Jessica Rosenworcel
,
Justice Department
,
Lawsuit
,
Lifeline
,
Merger
,
Michael O'Rielly
,
Mobile
,
Networks
,
Pharmaceutical
,
Regulation
,
Smartphone
,
Sprint
,
T-Mobile
,
Telecom
,
Wireless