The Federal Communications Commission approved T-Mobile's acquisition of Sprint, a $26 billion merger that has been opposed by numerous state attorneys general and consumer advocacy groups. T-Mobile and Sprint, respectively the nation's third and fourth-largest wireless carriers, pioneered the end of early termination fees and reintroduction of unlimited data plans. The FCC, which is dominated by Republicans, lauded the deal as likely to speed up the adoption of 5G networks across the U.S. Meanwhile, a group of state attorneys general are continuing with a lawsuit that intends to fight the merger.
CNN reports FCC chair Ajit Pai noted that, "the transaction will help secure United States leadership in 5G, close the digital divide in rural America, and enhance competition in the broadband market."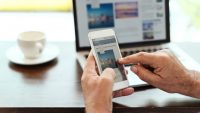 The FCC's two Democratic members, commissioners Jessica Rosenworcel and Geoffrey Starks, begged to differ. Rosenworcel called the deal the end of "a golden age in wireless," and Stark pointed out that a staff analysis found that "wireless prices could go up after the merger, particularly for low-income urban Americans."
To win FCC approval, T-Mobile committed to "spin off Sprint's prepaid subsidiary, Boost Mobile, and build out high-speed wireless Internet to large swaths of the country." "I have little confidence that these commitments will protect competition and result in deployment of 5G services beyond what might have occurred in the absence of a merger," said Stark. Although both the FCC and Justice Department have approved the merger, a coalition of states has sued to block the deal.
The Wall Street Journal reports that "a group of state attorneys general, led by New York and California, filed a lawsuit in June to block the deal, saying it would drive up prices for cellphone services." FCC's Pai stated at a Council on Foreign Relations meeting that, "he hopes the states don't prevail … [and that] putting some of Sprint's under-utilized mid-band spectrum to use would be beneficial to the build-out of 5G in the U.S."
In the last quarter, T-Mobile added more new phone subscribers and Sprint lost more; T-Mobile shares were up 1 percent to $81.68 and Sprint's were down 1 percent to $6.08.