In Facebook's latest effort to bring Internet access to rural communities and less developed areas, the social giant is teaming with Carlsbad, California-based Viasat to deliver high-speed satellite-powered Wi-Fi hotspots. Starting in remote regions of Mexico, the two companies are eyeing a potential global project for the future. Last April, Viasat and local partner Prosperist introduced the "Community" Wi-Fi hotspot service in Mexico, which recently became available to more than one million citizens. Community uses the ViaSat-2 satellite system, which the company describes as the highest-capacity satellites currently in orbit.
"The selling point behind Community is that it requires minimal infrastructure on the ground — a satellite antenna is installed at a central location within a community, perhaps on the roof of a small grocery store, and that signal can then be spread more than 500 yards," explains VentureBeat.
"End users pay the local business owner (where the antenna is installed) for a code that enables them to get online for a set amount of time or data. A typical price would be around 50 cents for an hour's usage or $1.60 for 200Mb of data."
Facebook has been investing in a variety of Internet infrastructure projects, "including an autonomous solar-powered drone project that was later canned," in addition to "the Asia Pacific Gateway underwater Internet cable," and through a Microsoft partnership, the "4,000-mile transatlantic Internet cable Marea, connecting North America with mainland Europe."
Facebook is investing directly in the Viasat initiative and helping to identify communities in need. Since about half the world still does not have Internet access, connectivity will be critical for the future growth of tech companies such as Facebook.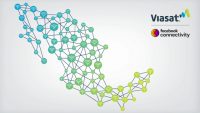 "Facebook is committed to working with industry partners around the world to help bring more people online to a faster Internet," said Facebook Connectivity VP Dan Rabinovitsj. "Viasat's rapidly growing Community Wi-Fi hotspot service is an example of a model that can help overcome the global connectivity challenges of accessibility and affordability, particularly in hard-to-reach rural areas."
"Viasat is also at work on a global constellation of three next-generation ultra-high-capacity satellites, known as the ViaSat-3 class satellites, to bring affordable high-speed, high-quality Internet connectivity to the hardest to reach places," notes Viasat in a blog post.
The company believes that the Community Wi-Fi model can be implemented "in many other areas of the world once the ViaSat-3 constellation is in place. While the collaboration with Facebook is getting its start in Mexico, there's a potential to expand that globally."