Facebook unveiled a new server yesterday — code-named Yosemite — that is based on its collaboration with Intel. While the server is designed to run the social network's software, Facebook envisions the system also being used by other companies. The announcement was made during an Open Compute Project gathering, which also included news from Hewlett-Packard regarding its new stripped-down servers for cloud-based operations. HP execs said the company's new Cloudline machines would be less expensive than its popular Proliant line.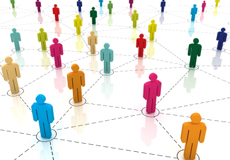 "Nearly all Web servers have sockets to accommodate two microprocessor chips," reports The Wall Street Journal. "Yosemite, by contrast, is built with four small circuit boards that each sport one chip — a new variant on Intel's popular Xeon product family. Facebook found the two-socket design too bulky and power-hungry for many jobs and proposed Yosemite as a more efficient alternative."
"This is a really, really nice building block for the future," said Jay Parikh, Facebook's VP of engineering, who explained that Facebook worked with Intel for more than 18 months on Yosemite's design. Parikh noted that the two-socket design proved inefficient for certain tasks.
HP's new cloud servers were produced in a joint venture with Taiwan company Foxconn (Hon Hai Precision Industry Co.).
"HP's announcement today was pretty phenomenal," commented Don Duet, co-head of Goldman Sachs' technology operation.
"Duet said Goldman expects roughly 70 percent of its computer server purchases this year to be Open Compute-style gear, up from about 30 percent in 2014," notes WSJ. "The big shift is that vendors have made it feasible for customers like Goldman to buy the same type of equipment the Internet giants use."
Topics:
Chip
,
Cloud
,
Cloudline
,
Don Duet
,
Energy Consumption
,
Facebook
,
Foxconn
,
Goldman Sachs
,
Hardware
,
Hewlett-Packard
,
Hon Hai Precision
,
HP
,
Intel
,
Internet
,
Jay Parikh
,
Non-Profit
,
OCP
,
Open Compute Project
,
Open Source
,
Proliant
,
Server
,
Social Media
,
Social Network
,
Software
,
Taiwan
,
Xeon
,
Yosemite