The European Commission is ramping up to boost microchip production, unveiling the European Chips Act, which proposes to unleash roughly $49 billion in public and private funds for chipmaking. The plan, announced this week, is part of the EU's effort to regain a degree of commercial independence, and underscores the importance of computer chips to national security, something the Biden administration has also emphasized. The EC proposal reserves for the Commission the right to prioritize specific products under certain circumstances, something the chip foundries of various nations have also been doing.
While the move is something of a stopgap measure to ease the supply chain chip shortage afflicting the world, it is also an effort to expand the bloc's market share in the global market for semiconductors. "Our objectives are high: doubling our global market share by 2030 to 20 percent, and producing the most sophisticated and energy-efficient semiconductors in Europe," EC commissioner for internal market Thierry Breton said in a news announcement.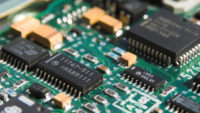 "Without chips, no digital transition, no green transition, no technological leadership," Breton continued. "We are putting everything in place to secure the entire supply chain and avoid future shocks to our economy like we are seeing with the current supply shortage in chips."
"While the EU is an important supplier of the materials and machines needed to make semiconductors, it is well behind Asia and the U.S. in fabricating most kinds of chips," writes The Wall Street Journal.
The U.S. has its own CHIPs for America Act, which is still awaiting House approval on $52 billion in funding, passed by the Senate in June. Earlier this month, U.S. Commerce Department secretary Gina Raimondo stressed the urgent need for full passage.
"Europe and the U.S. were bigger players in the global semiconductor market in the 1990s, but both have since fallen far behind countries in East Asia, where most production is now concentrated," WSJ notes, invoking the importance of increasing "global manufacturing capacity in the semiconductor industry now because demand for the chips is only going to grow over the coming years."
"The EC in March unveiled its Digital Compass plan to make the EU digitally sovereign by 2030" by increasing chip production, ZDNet reports.
Like CHIPs for America, the Chips for Europe initiative will help fund R&D as well as new foundries and is geared toward triggering private investment. Chips for Europe coincides with an EU effort to step up its role on the global technology stage.
Related:
Europe Has a Chips Plan — Here Are 6 Things That Could Kill It, Politico, 2/8/22