Streaming services had another strong showing with the latest Oscar nominations. Apple TV+ received six nominations, including its first in the Best Picture category for "CODA," also groundbreaking as the first film with a majority deaf cast to contend in the top category. Apple acquired the film at last year's Sundance Film Festival where it set a record with its $25 million bid. Apple also got noticed for Joel Coen's "The Tragedy of Macbeth," which earned Denzel Washington a Best Actor nod and is competing for Best Production Design and Best Cinematography. When the contenders were announced Tuesday morning, it was Netflix that tallied the largest haul, with 27 nominations, the most of any studio. 
Netflix's Western "The Power of the Dog" received 12 nominations, the most of any film, including for Jane Campion who received writing and directing nods, becoming the first woman to land two Best Director nominations. The tale of toxic masculinity is also nominated for Best Picture, as is "Don't Look Up," the company's pull-out-the-stops climate change satire, which competes in four categories.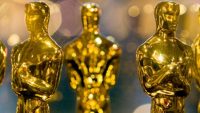 Netflix has yet to win a Best Picture Oscar, "but the number of nominations is the latest sign that the film academy's reluctance to recognize Netflix has faded in recent years," The Los Angeles Times points out. Last year Netflix received 35 Academy Award nominations and it had 24 the year before that.
Among the traditional distributors based in Hollywood, Warner Bros. received 16 nominations — the second highest count — including 10 for "Dune," and six for "King Richard." Disney had nine nominations, including a nod for "Spider-Man: No Way Home" for Best Visual Effects. 20th Century Studios rumbled to eight noms, seven of them — including Best Picture — for Steven Spielberg's "West Side Story." Soon to be owned by Amazon, MGM also received eight nominations.
The Academy website contains a complete list of nominees.
"Like last year, many of the nominees were primarily seen on television screens rather than in movie theaters, as studios adjusted their release strategies in the face of the continuing COVID-19 pandemic and changing consumer habits," writes LA Times, reporting that "of the 10 best picture nominees, half were released by streaming services or simultaneously online and in theaters."
In an unusual twist, "the highest-grossing best picture nominee was 'Dune,' despite its same-day streaming release. It earned nearly $400 million in global ticket sales, including $108 million domestically," says LA Times, adding that all of Warner's 2021 movies were "released on streaming service HBO Max and in theaters simultaneously for 31 days."
The 94th Academy Awards ceremony is scheduled to take place March 27 at the Dolby Theatre. As regards to COVID-19, the Academy announced Wednesday that it will require attendees to produce a negative PCR test or rapid antigen test to gain admittance to the ceremony but will not demand proof-of-vaccine.
Related:
Steven Spielberg Makes Oscars History with New Nominations, The Hill, 2/8/22
Amazon Lands Four Oscar Nominations, Led by Acting Nods for 'Being the Ricardos' Stars, GeekWire, 2/8/22
Apple Scores Its First Oscar Nomination for Best Picture, Engadget, 2/8/22
Topics:
20th Century Studios
,
Academy Award
,
Amazon
,
AMPAS
,
Apple TV Plus
,
CODA
,
Denzel Washington
,
Disney
,
Don't Look Up
,
Dune
,
HBO Max
,
Jane Campion
,
Joel Coen
,
King Richard
,
MGM
,
Netflix
,
Spider-Man: No Way Home
,
Steven Spielberg
,
Streaming
,
Sundance Film Festival
,
The Power Of The Dog
,
The Tragedy of Macbeth
,
Warner Bros.
,
West Side Story