U.S. demand for semiconductors was as much as 17 percent higher in 2021 than it was in 2019, yet there hasn't been a commensurate increase in the available supply, with median inventory falling to less than five days in 2021, from 40 days in 2019, according to a Commerce Department report. "If a COVID outbreak, a natural disaster, or political instability disrupts a foreign semiconductor facility for even just a few weeks, it has the potential to shut down a manufacturing facility in the U.S." that makes anything from medical devices to automobiles to computers, the report concludes.
"The semiconductor supply chain is very fragile, and it is going to remain that way until we can increase chip production," Commerce Secretary Gina Raimondo said at a press conference covered by The Wall Street Journal. "We aren't even close to being out of the woods as it relates to the supply problems with semiconductors," Raimondo explained.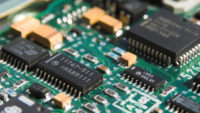 Raimondo used the event to urge Congress to pass the Biden administration's CHIPS for America Act, a $52 billion fund to revitalize of the domestic semiconductor industry that is part of the U.S. Innovation and Competition Act.
"Every day we wait on this funding is a day we fall further behind," Raimondo warned in a press release. "With sky-rocketing demand and full utilization of existing manufacturing facilities, it's clear the only solution to solve this crisis in the long-term is to rebuild our domestic manufacturing capabilities."
Raimondo said that "the survey had also uncovered unusually high prices for semiconductors that are sold through brokers, and that the Commerce Department would be investigating those practices," according to The New York Times, which noted "the Biden administration has set up an early alert system to notify government and industry of impending chip shortages and convened company leaders" to encourage investment "while acknowledging that any new construction of chip manufacturing facilities in the United States will take several years and will not provide an immediate remedy to the shortages."
After breaking ground in 2021 on two new factories in Arizona, Intel last week announced plans to build a $20 billion chip factory in Ohio. Taiwan's TSMC in March announced plans for a $12 billion complex in Phoenix, Arizona while Seoul-based Samsung said in November it will add a new $17 billion facility in Texas.
Reuters reports Raimondo said the Commerce Department will "go company by company and do personal engagement and get what we need." She explained that in November she had contacted "all of the CEOs in the supply chain — including Samsung, TSMC, SK and all of the CEOs have pledged to me that they will be submitting robust and complete data flows to us."
The U.S. "could compel foreign semiconductor firms with U.S. operations to answer detailed questions about the chips market," Reuters writes, noting that the Economic  Ministry of Taiwan, the world's largest chip-producing nation, said it responded to the survey and that "Taiwanese companies are working hard to produce chips and coordinating with 'important international business partners' to strengthen supply chains."