South Korea and the European Union announced a new pact today to develop 5G networks for faster mobile Internet service. The two will launch a joint group with plans to develop systems, set standards and ready radio frequencies in order to help establish a global vision on 5G by the end of next year. According to EU data, the six minutes required to download a one-hour HD movie on a 4G mobile Internet would only take six seconds on a superfast 5G network.
"The agreement could be crucial for the EU, which is lagging behind in the global telecommunications race after late and patchy implementation of the current 4G standard," reports The Wall Street Journal. "European businesses have long warned that Europe's growth will suffer if the bloc continues to trail its rivals on mobile technology."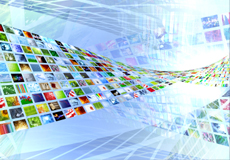 China's Huawei Technologies is already investing heavily in 5G, while universities in the U.S. are also researching the next-gen standard.
"The EU is eager to regain its position as a global leader in mobile standards. The European GSM standard led the world when people first started using portable phones," notes the article.
"While Europe rested on its laurels, South Korea pushed ahead to set out fresh revenue streams, with the first comers to the technology expected to hold a leading share in the industry."
The newly announced partnership will be led by Europe's 5G PPP, based in Belgium, and the 5G Forum in South Korea.