MGM-owned pay TV network EPIX is revealing details of its video streaming app being integrated into the 2018 Honda Odyssey, that company's upgraded fifth-generation minivan. The move is significant because, even as in-car entertainment has become increasingly sophisticated (with Spotify being integrated into many vehicles, for example, and Google developing a version of Android just for cars), mainstream visual entertainment services have not shown up in vehicles until now.
The Honda set-up features a 10.2-inch rear entertainment screen that swings down from the roof, a built-in Blu-ray player and an HDMI port for screening content from portable devices.
According to VentureBeat, "a bona fide cable TV network built into the automobile's fabric represents a minor milestone for the connected car revolution." With EPIX, Honda Odyssey passengers will be able to access about 2,000 movies and shows, as well as four live linear channels. Riders can queue up content, listen to it via headphones, and rear-seat passengers can control the entertainment without the driver.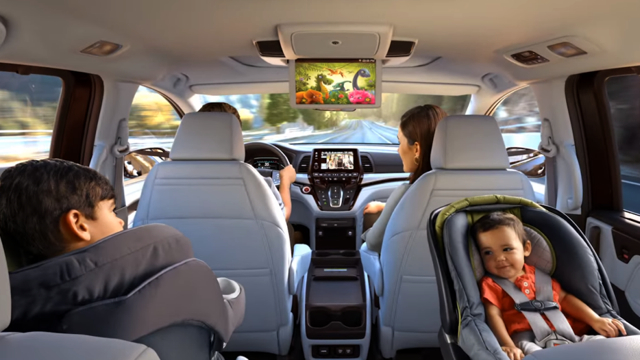 EPIX "making its slate of subscription-based movies and shows available to those sitting in the second and third rows of the Honda Odyssey" is ideal for a car marketed as being family-focused. Honda previously announced that PBS Kids would also be available in the Odyssey.
EPIX chief digital officer Jon Dakss reports that, moving forward, the company has a "deep roadmap of innovative features," including "the ability to download content to the Honda entertainment system" via "other mobile devices in and out of vehicles."
"We're also tracking the rapid technological advances in the autonomous vehicle space, as we believe they will create extraordinary new ways for people to access premium content while they travel," he said.
In addition to EPIX, Honda also offers CabinWatch and CabinTalk, which "lets those in the front not only observe rear-based passengers through their dashboard screen but also talk to them through a built-in microphone."
Topics:
Android
,
App
,
Autonomous Vehicles
,
Blu-ray
,
Broadcast
,
CabinTalk
,
CabinWatch
,
Cable TV
,
Connected Cars
,
EPIX
,
Google
,
HDMI
,
Honda
,
Honda Odyssey
,
Jon Dakss
,
Live TV
,
Mark Greenberg
,
MGM
,
Minivan
,
Mobile
,
Movies
,
Music
,
Pay TV
,
PBS Kids
,
Spotify
,
Streaming
,
Subscription
,
TV Shows
,
Video