As the U.S.-China trade war heats up, Taiwan-based electronics manufacturers including Foxconn and Pegatron are considering opening new factories in Mexico, South America's second largest economy. Sources said Foxconn would manufacture Apple iPhones in Mexico but will make a final decision later this year. Apple would not comment. Pegatron is "in early discussions with lenders" for a Mexico facility to assemble semiconductors and other electronic components. This "near-shoring" would move supply chains away from China.
Reuters reports that about 30 percent of Foxconn's products are already made outside of China. On August 12, Foxconn chair Liu Young-way told an investor conference that, because the world is splitting into two groups due to the U.S.-China tensions, it is working on "providing two sets of supply chain to service the two markets." "The world factory no longer exists," he said.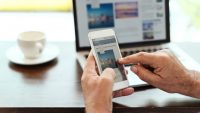 Foxconn already has five factories in Mexico and stated that it has "no current plans to increase those investments." But the Taipei Economic and Cultural Office in Mexico revealed that Foxconn is "interested in building another factory in Ciudad Juarez, in the northern border state of Chihuahua" and that Pegatron also wants to move a production line there.
"Mexico is one of the ideal countries for companies considering readjusting their chain of suppliers," said director general Armando Cheng. Also considering a factory in Mexico is China's Luxshare Precision Industry, which is reported to be "a leading manufacturer of Apple AirPods."
COVID-19 froze cross-Pacific supply chains, "exacerbating firms' concerns about having their productive base an ocean away from American consumers … [and] the newly implemented United States-Mexico-Canada trade deal requires more locally sourced inputs for tariff-free exports to the United States." Mexico economy minister Graciela Marquez said her country would talk soon with Apple, having already "spoken to a host of foreign companies in an effort to lure business from Asia to capitalize on the trade deal."
Some critics see Mexico president Andrés Manuel Lopez Obrador as a hindrance to more trade due to the country's "poor handling of the pandemic" and his "meddling in private investment decisions."
But Samuel Campos of Newmark Knight Frank reported that his company is "currently helping two Chinese companies, one in the autos sector and the other in manufacturing, relocate to an industrial cluster in Mexico … [and that] electronics, medical and automotive firms in Asia are likely to help drive investments into Mexico in the fourth quarter this year."
The Trump administration is also trying to "encourage firms to move production facilities from Asia to the United States, Latin America and the Caribbean" by looking into "financial incentives."
Topics:
AirPods
,
Andrés Manuel Lopez Obrador
,
Apple
,
Armando Cheng
,
Chihuahua
,
China
,
Ciudad Juarez
,
Coronavirus
,
COVID-19
,
Donald Trump
,
Foxconn
,
Graciela Marquez
,
iPhone
,
Liu Young-way
,
Luxshare Precision Industry
,
Manufacturing
,
Mexico
,
Newmark Knight Frank
,
Pegatron
,
Samuel Campos
,
Semiconductor
,
Supply Chain
,
Taiwan
,
Tariff
,
United States