21st Century Fox just invested $6.5 million in the London-based Drivetribe, a new digital media platform for car fans. This comes two weeks after early Facebook investor Jim Breyer and venture capital fund Atomico, led by Skype co-founder Niklas Zennstrom, invested $5.5 million. Entrepreneur Ernesto Schmitt, former "Top Gear" hosts Jeremy Clarkson, Richard Hammond and James May, and the show's former executive producer Andy Wilman are the creators behind Drivetribe, which launches in November.
Variety reports that Drivetribe will be structured as "tribes," each with its own personality, hosted by stars, bloggers, videographers and writers, with content created by professionals and users. Clarkson's "Alfa Male" tribe will compete with "Hammond's Fob Jockeys" and "James May's Carbolics."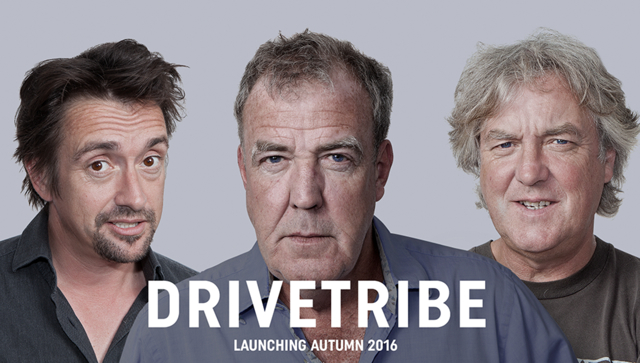 "We saw the Drivetribe platform and we were blown away by its ingenuity," said Fox Networks Group chief executive Peter Rice. "We're excited to collaborate with the Drivetribe team on this new approach to digital content and to help them expand their business on a worldwide basis."
Amidst the 2,000 proposals from other "potential tribe leaders," Drivetribe has approved classic-car blogger Rosemarijn Atalante Veenenbos' "Crank Handlers," rally-driver Harry Hunt's "Sand Junkies," drifting-enthusiast Alexi Smith's "Noriyaro," wilderness adventurers Megan McLellan and Emanuel Smedbol's "Field and Forest," designer Joey Ruiter's "Future Machines," racing-driver Oliver James Webb's "Global Racer," and racing-driver Parker Kligerman's "Motorsports America."
Schmitt describes a tribe as "a collection of people that gather around a leader, a shared purpose and a shared idea, and the kind of qualities that you look for in the tribe leaders are that they have vast amounts of passion around a particular topic, a tone of voice, and that they have the ability not only to generate great content, but also to lead a community of people and curate [content] with them and for them."
He adds that, "the Drivetribe model could be applied to other fan communities, particularly in the world of sports," where teams "form the natural basis" for a tribe. But the concept can "also be reverse-engineered into traditional media products, such as linear TV channels." Schmitt believes the recognition of that concept is why Fox invested heavily in the venture.
"They see the potential for the delivery and distribution of all forms of content, even 'lean-back' long-form high production-value content such as 21st Century Fox produce," he said.
Topics:
21st Century Fox
,
Alexi Smith
,
Andy Wilman
,
Atomico
,
Automobile
,
Drivetribe
,
Ernesto Schmitt
,
Facebook
,
FOX
,
Harry Hunt
,
James May
,
Jeremy Clarkson
,
Jim Breyer
,
London
,
Megan McLellan
,
Niklas Zennstrom
,
Oliver James Webb
,
Peter Rice
,
Richard Hammond
,
Rosemarijn Atalante Veenenbos
,
Skype
,
Sports
,
Top Gear
,
United Kingdom