Disney Animation debuted its animated short "Paperman" in theaters with "Wreck-It Ralph" at the end of last year. The short is now available online, allowing people to watch it before the Academy Awards. "The Oscar-nominated animated short that blends hand-drawn and computer-generated imagery in a beautiful, innovative way that might just look like the future of animation as a whole," writes Wired.
"Paperman" looks different from modern cartoons, notes the article. "It actually looks as if real people have created it, not machines, and that's something we haven't really seen in feature animation for years."
It has a limited color palette, retro styling and doesn't look like "generic, quasi-photo-realistic CGI animation" often seen in modern computer animated films.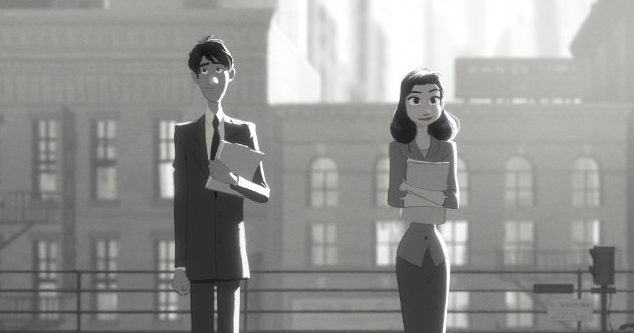 "Paperman" director John Kahrs was inspired to animate with the combined style after working on "Tangled" with experienced Disney animator Glen Keane — who worked on classics such as "The Little Mermaid," "Beauty and the Beast" and "Aladdin," among others.
"Kahrs found himself with a new appreciation for traditional animation and drawing techniques," reports Wired.
"I thought, 'Why do we have to leave these drawings behind? Why can't we bring them back up to the front of the image again? Is there a way that CG can kinda carry along the hand drawn line in a way that we haven't done before?'" he said.
The technique itself is called Meander, "a vector-based drawing program that allows for manipulation of the line after the fact," which Kahrs describes as "painting on the surface of the CG."
According to Wired, the short is a serious contender to take best animated short. "It easily deserves to win; as good as the other nominees are, nothing manages to be quite as touching, quite as impressive, or quite as aware of the legacy of the past of animation while pointing towards the future of the medium, as this is," notes the article.
The Wired article includes the "Paperman" video. It is also available on Disney Animation's YouTube channel.