Former rivals DraftKings and FanDuel announced they plan to merge their daily fantasy sports operations into one company, to be run by DraftKings CEO Jason Robins. FanDuel chief exec Nigel Eccles will become chairman. The board will include three directors each from DraftKings and FanDuel, plus an independent director, while headquarters will be divided between New York and Boston offices. The deal, which aims to increase innovation by freeing up money, is expected to close during the second half of next year.
"Neither company has been able to invest as much as we want to in a vast array of innovative ideas," said Robins. "We really do share a common vision and really do have a boatload of ideas."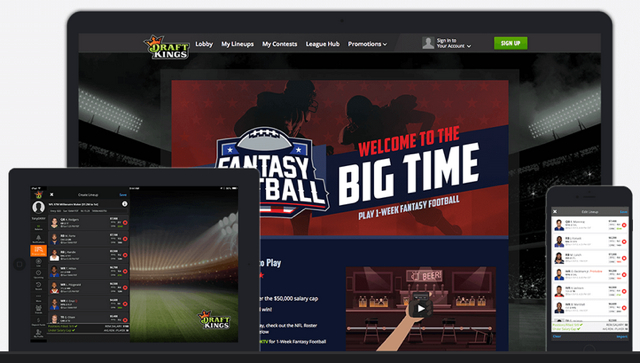 The sites are backed by heavy hitters; Comcast is an investor in FanDuel, while 21st Century Fox is an investor in DraftKings. According to ESPN, "the NBA has equity in FanDuel; Major League Baseball and the NHL are partners with DraftKings, along with 28 of the 32 NFL franchises."
Both companies have faced regulatory and legal challenges (including investigations by the Justice Department), which have likely impacted their valuation. While financial specifics have yet to be disclosed, FanDuel reportedly generated about $100 million in revenue last year.
While challenges have led to operations pulling out of some states, the companies have also experienced some victories, including a notable win in New York that recently allowed operations to resume. Eccles and Robins "hope the legislative victories will continue next year," reports The Wall Street Journal.
"An attorney for FanDuel said he expects the deal to undergo an antitrust review by the Federal Trade Commission but doesn't believe that will pose a problem," notes WSJ. "Websites like ESPN and NFL.com operate season-long fantasy sports leagues and could enter the daily fantasy sports space once regulatory and legal issues are resolved, the attorney said."
The merger may draw more scrutiny from the FTC than suggested. "FanDuel and DraftKings make up more than 80 percent of the daily fantasy marketplace, but are looking to pool their resources to grow their customer base by tapping into the much larger season-long market," explains ESPN. "An estimated 40 million North Americans play only season-long fantasy sports, eight times more than the number of those who play daily fantasy."
Topics:
21st Century Fox
,
Antitrust
,
Boston
,
Comcast
,
Daily Fantasy Sports
,
DraftKings
,
ESPN
,
FanDuel
,
Fantasy Sports
,
Federal Trade Commission
,
Finance
,
FTC
,
Gambling
,
Government
,
Jason Robins
,
Justice Department
,
Lawsuits
,
Legal
,
Merger
,
MLB
,
NBA
,
New York
,
NFL
,
NHL
,
Nigel Eccles
,
Regulation
,
Revenue
,
Sports