After more than two years of beta testing, the nonprofit organization Creative Commons publicly launched its search engine, which includes more than 300 million images indexed — a huge jump from the 9.5 million images that were available at beta launch. The engine aims to provide an easy way for users to search the organization's archive of free content, available in the public domain to use under Creative Commons licenses. Since its beta, the engine has been updated with a redesign and faster, more relevant search functionality.

Other, larger search engines like Google and Flickr have long offered tools to let users filter for Creative Commons-licensed images. But the Creative Commons website itself got a decent bit of traffic. For example, in February 2017, the organization "was seeing nearly 60,000 users search its site per month, which is why it wanted to create an improved search experience," reports TechCrunch.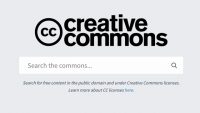 "There is no 'front door' to the commons, and the tools people need to curate, share, and remix works aren't yet available," said Creative Commons CEO Ryan Merkley. "We want to make the commons more usable, and this is our next step in that direction."
The new search engine boasts images from 19 collections, including the Metropolitan Museum of Art, Cleveland Museum of Art, Behance, DeviantArt and others. With plans to keep growing the overall collection, Creative Commons has stated the desire to prioritize collections like Europeana and Wikimedia Commons.
Future plans include indexing content beyond just photos, tapping into other Creative Commons content like textbooks and audio, and eventually indexing all 1.4 billion works in the commons.