Based on numbers from mobile ad network Jumptap, which covers 134 million mobile users in the U.S. and 206 million mobile users worldwide, tablets accounted for 18 percent of all traffic on its network — compared to 78 percent for smartphones and 4 percent for feature phones. With the data from Jumptap's most recent monthly report and its latest projections, tablets are set to continue this upward trend at a rapid pace.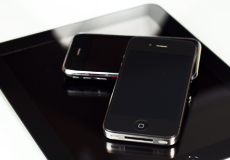 Even as the figures indicate that the market for tablets is smaller compared to that for smartphones, there is growing usage on tablets. "…given usage trends over the past few months, it believes that by the end of 2013, the percentage for tablets will grow to just under one-third of all traffic (29 percent), while smartphones will decline to 70 percent," reports TechCrunch.
"Crunching some numbers from IDC and Gartner, it looks like tablets will make up only about 10 percent of overall sales of smart devices this year. Yet Jumptap's figures of 29 percent seem to indicate that those bigger screens are translating to more usage," notes the article.
In addition, Jumptap also projects how Android and Apple's iOS will perform in the coming year. "As we and the analysts have noted before, we are continuing to see a two-horse race here… the growth in market share appears to have now reached a peak. Android, as it has for the past two years, will continue to remain in the lead as the most popular platform, with Apple close behind, but gains are now minor compared to years before," reports TechCrunch.
It is also important to note that Samsung is growing at a rapid pace. At the end of 2012, the company accounted for 56 percent of all Android traffic on Jumptap's network, expected to rise to 60 percent this year. "Advertisers focusing on the Android market should assume that more than 50 percent of their ads will appear on Samsung smartphones, unless they specifically target other devices," Jumptap writes in its report.