YouTube is reportedly planning to launch a subscription streaming music service later this year, that could take on existing services such as Spotify and Pandora. The company is expected to offer a subscription plan that will likely overlap with new features coming to its Android music platform, Google Play. With the subscription, users will have access to new features, including ad-free music streaming.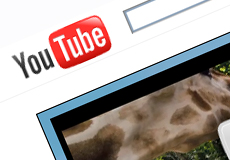 "The two new services are defined by their respective places in the Google empire: Google Play for Android is a digital locker for music — users buy, store, and sort a collection of tracks; but on YouTube's coming service, anyone can listen to tracks for free," reports Fortune. "Both services are said to be adding a subscription fee that will unlock additional features. For the YouTube-based service, this will likely mean ad-free access."
As of last May, YouTube users were posting up to 72 hours of content a minute, with a good portion of that being music. Last month Billboard even began incorporating YouTube views of music videos when determining their top music charts. An increasing number of music fans are using the video site, now the world's largest digital repository of streaming media, as a music discovery resource.
YouTube, however, is keeping the project under wraps. The company released a statement, saying: "While we don't comment on rumor or speculation, there are some content creators that think they would benefit from a subscription revenue stream in addition to ads, so we are looking at that."
YouTube currently sells ads that preview its videos, and a certain percentage goes back to the companies. That way they can remain a free service. There are now concerns about how the new streaming service would work in regards to monthly fees and advertising.
"Record companies aren't in perfect agreement as to how much of their content to give away and are still hashing out what aspects of the user experience will be free on YouTube's new service, particularly when accessed from mobile devices," notes Fortune. "There is concern that under a 'freemium' model, listeners might get used to not paying for music (again) and that revenue would be tied to the ad sales that subsidize the free content."
While 64 percent of teenagers prefer YouTube compared to other sites, according to a Nielson "Music 360" report, if the company does decide to launch a music streaming service, it will be entering crowded turf. Veteran music streaming services such as Pandora, Spotify, Rdio, and Soundcloud already offer eclectic libraries to their faithful consumers, and now there are rumors that Apple is building a radio feature into iTunes, which could result in even tougher competition.
"But considering it's Google, the name itself may be enough to steal away users from the other services," suggests SlashGear in a related post.
Topics:
Google
,
Google Play
,
iTunes
,
Music
,
Music Streaming
,
Paid Subscription
,
Pandora
,
Rdio
,
SoundCloud
,
Spotify
,
Streaming
,
YouTube