Congress is advancing a bill that would put more power in the hands of the federal government to block deals between U.S. and Chinese companies deemed to risk national security. Tensions between the two countries are high as each threatens and seeks to negotiate with the other. President Trump and Chinese vice premier Liu He met to discuss potential concessions as the U.S. ramps up threats of tariffs, while China's antitrust division just lifted a many-month delay on Bain Capital's $18 billion deal with Toshiba's memory chip unit.
The Wall Street Journal reports that the proposed legislation "would affect both foreign firms seeking deals in the U.S. and American companies doing business abroad by tightening the processes for vetting inbound and outbound investment" via an expansion of the Committee on Foreign Investment for the U.S. (CFIUS), an "interagency committee that reviews proposed foreign takeovers of U.S. businesses."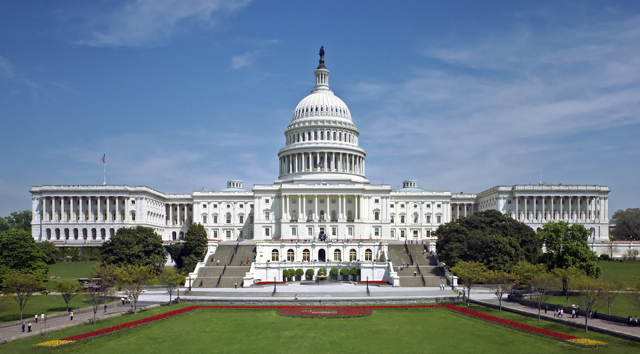 The law "spells out CFIUS's authority to vet the purchase or lease of real estate near sensitive U.S. facilities, and its right to review any deal structured to evade its jurisdiction, such as transactions that use shell companies to obfuscate the would-be buyer's ownership."
The proposed legislation's latest version "seeks to settle the question of how Washington would monitor the overseas transactions of U.S. companies," with the government vetting domestic and overseas transactions through separate processes. The bill, which has bipartisan support, is "particularly aimed at curbing certain Chinese deals," says WSJ, and has been "endorsed by the president and the heads of the departments of Defense, Treasury and Justice — which are all part of CFIUS — among other senior officials."
Companies that do business in China, however, prefer that such deals be run by the Commerce Department's export-control process, which is "relatively transparent" compared to CFIUS.
The New York Times reports that China, after several months, finally approved Toshiba's sale of "a majority stake in its lucrative microchip unit to an American-led group," Bain Capital. China's hold-up was "widely seen as a signal from Beijing about how it might punish American businesses if the Trump administration acted on threats to impose tariffs on $150 billion in Chinese-made goods."
The deal came days after President Trump tweeted that he wanted U.S. officials to find a way to help ZTE, which was prohibited from purchasing U.S. goods as punishment for violating U.S. sanctions against North Korea and Iran.
A second big deal — Qualcomm's $44 billion acquisition of Dutch company NXP Semiconductors — continues to be held up awaiting Chinese approval. NYT notes that, "like American and European regulators, Chinese anti-monopoly officials can punish foreign companies through fines or other measures if they believe a deal beyond China's borders give the resulting business too much market power."
Topics:
Antitrust
,
Bain Capital
,
CFIUS
,
China
,
Commerce Department
,
Congress
,
Defense Department
,
Donald Trump
,
Federal Government
,
Iran
,
Justice Department
,
Legislation
,
Liu He
,
Microchips
,
National Security
,
North Korea
,
NXP Semiconductors
,
Qualcomm
,
Tariffs
,
Toshiba
,
Treasury Department
,
United States
,
ZTE