Google just released Home, a smart speaker that competes directly with the recently introduced Amazon Echo, powered by the virtual assistant Alexa. Since its release, Amazon's Echo has been a hit, as users have relied on it for everything from a home automation tool to kitchen companion and shopping assistant. Now, the two products, from two technology behemoths, will face off in the marketplace. These devices are still early in their development, and the virtual assistants powering them offer limited abilities.
The New York Times compared Alexa and Google on music, trivia, dining, entertainment and the smart home. The bottom line: "For those deciding between the two products, I recommend waiting to see if Home expands its abilities before making a purchase."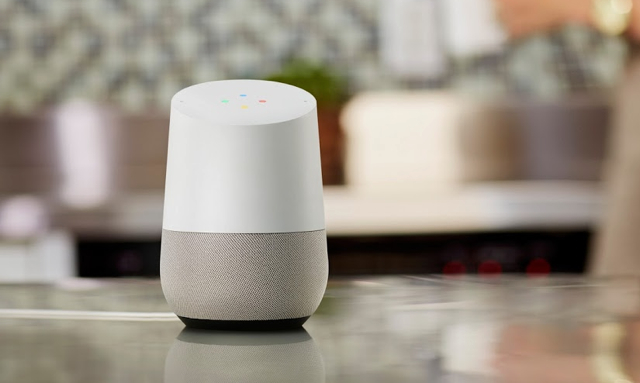 Although "Echo is currently more capable than Home, partly because a larger number of third-party companies have worked with Amazon to add capabilities to its speaker," NYT found that "Home's link to Google's database of information means it will most likely be able to give superior answers in the future." The reviewer also found that "music played from Home sounds clearer and its virtual assistant is a better listener than Alexa."
With regard to virtual assistants, says NYT, whether it's Google's Assistant, Apple's Siri, Amazon's Alexa or Microsoft's Cortana, they're all "still fairly dumb," although "Google's Assistant is smarter than Alexa," in a comparison test run by the reviewer.
Google Home, however, envisioned as a device that will work with many devices in the home, currently only works with three smart home companies including Nest, "the thermostat maker owned by Google's parent company Alphabet; SmartThings, Samsung's smart home accessories maker; and Philips, which offers smart lighting systems called Hue." Echo, meanwhile, supports smart home products from Honeywell, TP-Link and LIFX.
Both Echo and Home were "good at serving tunes and radio programs from popular services and stations, but Home was superior" at understanding requests for specific Spotify playlists or soundtracks. Both are limited with regard to food delivery: Google's speaker can't do it at all, and Alexa can only order Domino's pizza. Neither can "book a table for a restaurant nearby."
Alexa can, however, list showtimes at neighborhood movie theaters, which Google Home cannot, but Google vice president for product management Rishi Chandra says Home will be able to do this eventually as well as offer a food delivery service that works with voice.
Declaring that, "Echo and Home are largely the same in the basic tasks they can perform," NYT notes that Home, priced at $130, is cheaper than Amazon's $180 Echo. "Echo's major advantage is its ability to order items from Amazon and its broader smart home capabilities." But, it adds, "if you aren't big on Amazon shopping and can wait a few months to see how Home evolves, Google's speaker may be your long-term bet because of its smarter artificial intelligence and superior audio player."
Related:
Review: Google Home, Wired, 11/3/16
Google Home Review, CNET, 11/3/16
Google Home Review: Home Is Where The Smart Is, The Verge, 11/3/16
Google Home Review: The Assistant Steps into Your Living Room, Engadget, 11/3/16
Google Home Obliterates the Amazon Echo, But It's Got Some Work to Do, Gizmodo, 11/3/16
Topics:
Alexa
,
Alphabet
,
Amazon
,
Amazon Echo
,
Apple
,
Cortana
,
Database
,
Domino's Pizza
,
E-Commerce
,
Google
,
Google Assistant
,
Google Home
,
Honeywell
,
LIFX
,
Microsoft
,
Music
,
Nest
,
Online Shopping
,
Philips
,
Radio
,
Rishi Chandra
,
Samsung
,
Siri
,
Smart Home
,
SmartThings
,
Speaker
,
Spotify
,
TP-Link
,
Virtual Assistant