Facebook is getting ready to release Oculus Go, a new phone-free VR headset at a price point of $199. According to CNET, the standalone Oculus Go represents "entry-level accessibility" to virtual reality, an area of technology innovation they hope to see grow at a consumer level. While the games and apps available on Oculus Go seem similar to what's already available via Samsung's Gear VR, the design is "less clunky, and the integrated, cleaner, softer and smaller construction here is better," writes CNET.
CNET also notes that Oculus Go is "more reminiscent of Google's Daydream View VR headset … but with all the VR hardware and displays built right in."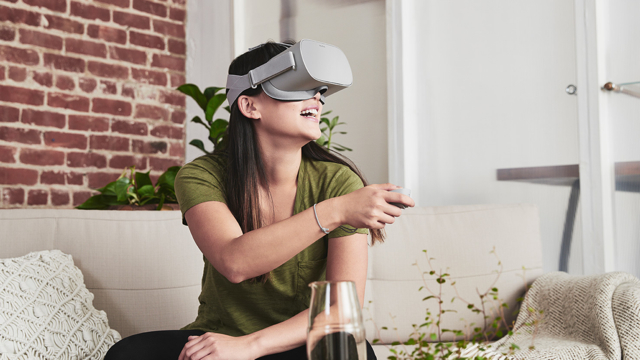 However, on the flip side, CNET reports that "Oculus Go isn't pushing new tech territories. It doesn't have 6 DoF (six degree of freedom tracking), which allows leaning forward or walking around a real space in VR. Instead, like Samsung Gear VR or Daydream View, you can only turn your head."
Additionally, Oculus Go comes with a controller that's nearly exactly like the one that comes with Gear VR and Daydream View.
A major aspect that makes Oculus Go attractive is its price point. CNET reports that "Lenovo's upcoming Mirage Solo with Daydream and HTC's Vive Focus are slightly more powerful standalone VR headsets … with an ability to move around rooms a bit," but the affordability of Oculus Go could still make quite a splash.
No release date has been set yet, though CNET surmises it might come out in May, coinciding with Facebook's annual F8 conference. It will likely be marketed as a friendly, accessible and affordable way for people to get into VR.
"Oculus Go is a doorway to a lot of apps for VR first-timers in an easier-to-use package. But will it win over more eyes? VR's already had a hard time making its way into average homes," reports CNET.
Related:
Oculus Affirms Commitment to Rift, Believes PC Will Lead the VR Industry for the Next Decade, Road to VR, 3/24/18
Oculus Go Hands-On: Going Lean, VentureBeat, 3/25/18
Oculus Go Feels Like Great Value for VR Newbies, Polygon, 3/23/18
Topics:
App
,
Controller
,
Daydream View
,
DOF
,
F8
,
Facebook
,
Gaming
,
Google Daydream
,
Hardware
,
Headset
,
HTC
,
HTC Vive
,
Lenovo
,
Mirage Solo
,
Oculus
,
Oculus Go
,
Oculus Rift
,
Review
,
Samsung
,
Samsung Gear VR
,
Social Media
,
Virtual Reality
,
Vive Focus
,
VR Game
,
VR Headset