After acquiring Whole Foods in 2017 for $13.7 billion, Amazon.com Inc. has been working to more deeply integrate its new physical grocery stores into its online retail business. Amazon, the world's largest online retailer, has a vision that ties together the physical and the digital. Currently, the company is searching for larger Whole Foods locations to serve as grocery stores that double as urban distribution centers to enhance the efficiency of online order deliveries, according to a source close to the project.
According to Bloomberg, while Amazon already owns and operates many large-scale warehouses on the outer limits of big cities, its integration with Whole Foods stores in urban centers would expand the selection of what's able to be delivered via Prime Now, Amazon's two-hour delivery service.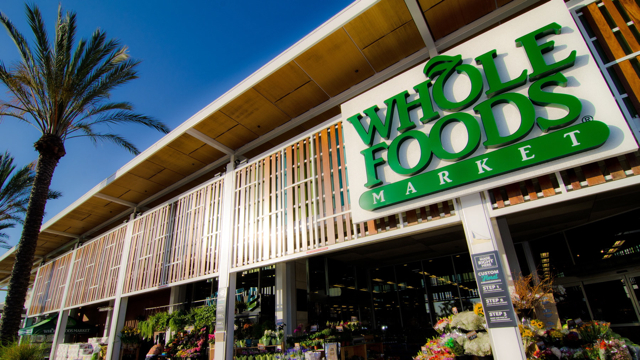 "Transitioning more orders to Prime Now would help Amazon reduce its reliance on United Parcel Service Inc., DHL and other traditional package handlers. Amazon has contract workers shuttle local deliveries in their own cars, similar to the model used by Uber Technologies Inc. and Instacart Inc.," explains Bloomberg.
As of now, all distribution centers for non-grocery items are separate from Whole Foods locations. However, just last month, Amazon started rolling out two-hour grocery delivery from its Whole Foods stores in the U.S. Combining the grocery and non-grocery distribution "could help Amazon cut costs and deliver goods more quickly," according to Bloomberg,
Additionally, Whole Foods is working with Regency Centers Corp., which is one of its biggest landlords as owner and overseer of 28 Whole Foods locations in the U.S. The ongoing project aims to "convert parking areas at existing stores into stalls for Amazon delivery contractors to load up their orders."
Regency Centers has confirmed that representatives from Whole Foods have inquired about both "larger retail spaces and parking stall installations in areas with high concentrations of Amazon Prime subscribers," explains Bloomberg, adding that the Whole Foods' real estate team has already asked Regency Centers to repurpose six parking spaces at some locations.
"Parking lots at Whole Foods stores in many major cities are already too crowded. A move to eliminate spots is an apparent bet that more customers will choose to get groceries delivered to their homes and avoid the store entirely," according to Bloomberg.